In the first installment of this article we discussed the continued relevance of the four historic legs of an overall energy thesis for the price movement of oil. In that installment we found that, oil should move gradually to the upside as the summer wound down. So far, it has delivered as per the expectation.
These four legs are summarized below.
Equilibrium between supply and demand, leaving little room for supply disruption.
The strength of the dollar weakens as trade tensions ease.
The Saudi factor, in terms of being able to fill losses from other countries
Capex for long cycle mega projects, still languishes in spite of growing recognition that there is a gap between supply and production on the horizon.
Not much has changed in the last couple of weeks on those four, so we will leave them for now. If you wish to review these for comment, here is a link to the previous article in this series.
In this part I want to discuss what I think is the most relevant potential Geopolitical event facing the crude market today. Iran, and possible near-term impacts on oil from the renewal of American sanctions.
Iran is in a period of extreme social stress, induced in part by the renewal of American sanctions on their government. In engineering school we learn when stress is applied in sufficient amounts to a material, the stress will eventually exceed the yield strength of the material, resulting in its abrupt failure. Societies have their breaking points as well, and I believe Iran's is showing signs of extreme stress.
Iran is beginning to exhibit the external features of extreme societal disruption in a way that we haven't seen in the last forty years. The last time there was this much civil unrest in this country, it was called "The Revolution."
The Russian Revolutions of 1917, The Chinese Revolution of 1949, or perhaps the American Revolution, teach us couple of things in particular.
Revolutions are messy.
And, revolutions in Iran have a historic impact on oil prices.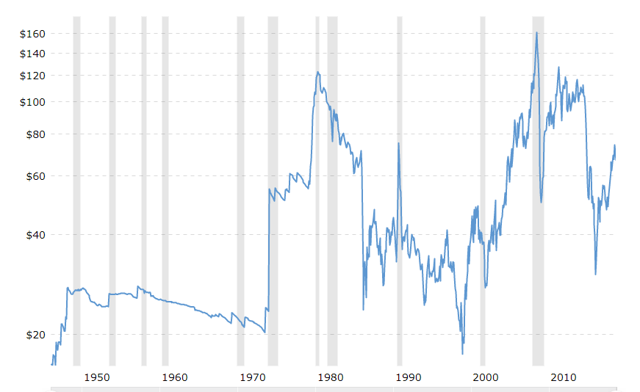 (Click to enlarge)
Source Note: the first time oil went over $100/bbl in actual dollars was 1979, following the overthrow of the Shah.
If a revolution occurs in present-day Iran, we should expect no less dislocation than the previous one in 1978.
Source If you're younger than 40 you don't have any memory of gas lines. Losing hours of your day waiting to get a few gallons of 'go-juice', has never been part of your life experience. Take a good look, it won't take much of a supply disruption to bring them back, overnight.
So, in this article we will look at some of the factors extant in this bell weather country, from the perspective of possible outcomes for oil.
I am certainly mindful that there are other hot-spots, notably VZ that will have an impact on the availability of oil in the near future. I view none of these as having the potential impact of the renewed sanctions on Iran, so we will keep the focus on Iran in this article.
Iran Present Day
Iran's population is very young, with almost 50 percent being under the age of thirty. They are also highly educated, in proportions that far exceed many other more progressive countries. Young, highly educated people are often strongly associated with societal changes. They are idealistic, passionate in their beliefs, and often feel disenfranchised by the system under which they live. Leading to a feeling of personal powerlessness. A feeling of powerlessness in people at the height of their physical and intellectual prowess, is never a good thing for social stability. Those in power in Iran should be concerned.
The renewal of U.S. sanctions has put a chill on what had been a re-surging economy since the removal of them in 2015. The collapse of the Rial (Iran's currency), has hurt them in terms of purchasing power.
(Click to enlarge)
They no longer support their country's intervention in Syria, particularly when money that could have been used domestically was funneled to the Assad regime.
What is particularly surprising to me as a student of that part of the world is the challenge to the ruling theocracy, symbolized below by the current Supreme Leader, Ayatollah Khamenei. This just doesn't happen, but now it has, and continues. And, this is what makes it different this time.
(Click to enlarge)
Source This tone of protest is historically directed outward and west.
Now, you have an inkling into the social dynamics in Iran, you can see that the unrest is very alarming to the senior theocratic leadership, challenging them in ways they have never experienced. Further, we know they have reacted very harshly in the past to control the population, on occasion killing their own citizenry in suppressing these protest. The renewal of American sanctions is one problem they just did not need.
My concern is the extent to which the ruling theocracy will go in suppressing any potential for revolt. One of their chief tools will be to be openly defiant of U.S. sanctions, and strive to sell their oil in world markets in spite of them.
I am not predicting open rebellion within Iran, one never knows when the spark will be lit. My point is that the moving pieces are extant in this country. All it will take is a spark.
Let's look at how the involved parties are aligned in the coming conflict.
The geopolitical situation
Iran and Saudi Arabia butt heads on several different fronts. They each embrace competing versions of the Islamic faith, for one. Iran is mostly Shia, and oppresses Sunnis within its borders. Saudi is mostly Sunni and oppresses the Shias. So, there is point of conflict number one, each is convinced the other is heretical in their beliefs and follow a religion that isn't known for tolerance to heretics of local religious dogma.
If you're adventurous and wish to spend years in a Middle-Eastern prison, try handing out a couple of Bibles in either country. Christian proselytizing is strictly forbidden.
Next each country has a super power ally. Saudi looks west to America to shore up its regime. American support is likely the primary reason the House of Saud still rules over this piece of real estate. U.S. military support- guess who is America's number one arms customer, had made Saudi a power house in the region able to use advanced U.S. armament in the on-going conflict in Yemen (The proxy war between Iran and Saudi Arabia). Of about $12 bn in arms sales the U.S. garners on a global basis annually, the Saudis receive about 20 percent.
(Click to enlarge)
Iran, on the other hand has found a ready partner in the newly emerging and aggressive Russian Federation. It has been a marriage of convenience up to the past couple of years. Iran driven by its pathological hatred of Israel, and determined to hold sway over the Middle-East, has been able to further these goals with Russian military hardware. Along with India and China, Iran has become a major client for Russian arms.
(Click to enlarge)
Recently though, their relationship has deepened to box in a common foe. You can see in the photo above that the leaders of the two countries met in April of this year for the express purpose of enhancing ties. The objective for both primarily is oppose newly resurgent American foreign policy objectives.
Let's talk about Russia and Putin for a moment. There are few leaders in the world who carry the internal approval ratings of Vladimir Putin. At over 70 percent approval from the Russian electorate, a body of politic that admittedly is accustomed to few choices, Putin can move about the world with impunity.
Putin, has single-handedly begun to rebuild the Russian East-European hegemony with its annexation of Crimea in 2015. Further, he has masterfully put into place work-arounds to blunt the effects of American and UN sanctions that were put in place to bring him to heel. Basically he has not taken a single step backward, and the Russians love it. I have many Russian friends from my travels in the Russian Federation. From these relationship I can say with confidence that there are two things that motivate them as a people.
An institutional fear of invasion. While no one's favorite fantasy to be sure, the Russians have a pathological fear of invasion, driven by their history of being invaded. Given their military present military strength, an overland invasion of this country would be madness, and they know this. Still as it has happened throughout history with some regularity, they just cannot divorce this fact from their collective subconscious. The effects of WW II are still fresh in their minds. Not many westerners know that Russia lost over 26 mm men rebuffing the Germans 75 years ago. More than the total losses endured by every other country including the Japanese.
They want the prestige in the world back that was lost in the fall of the Soviet Union. Prior to the rise of Putin in the late 90's, it had gotten to be a bit embarrassing to be Russian. No longer.
You don't have to look any farther than these two points to find the source of Putin's power. He is "Making Russia Great Again," and has the acclaim of the great majority of his countrymen to buoy his ambitions.
One thing upon which you should settle your minds (I am digressing just a bit. But, no geopolitical discussion involving Russia is complete without mentioning this fact.) Russia will never give up Crimea. Period. End of story. The two have a long and complicated history, into which we don't need to spill a lot of ink at this point. Suffice it to say that Putin has been consolidating his position there over the past few years, and it has gone beyond the point of no-return. There was a time briefly, right after it occurred, when the U.S. might have accomplished the goal of routing the Russians without starting WW-3. That time is past, and we need to move on. Related: Survey: OPEC's August Production Rises
Do not underestimate the resolve of the Russian people. Russians almost alone among modern, advanced cultures know suffering and deprivation. People younger than I am, have stood in lines to get bread, only to find the store empty when they got to the front. I was once speaking with my translator in Volgograd about life in Russia, and what I'd had learned growing up. The old line about a Russian seeing a line and getting into it without knowing what was on offer came to mind. I framed it as a joke Americans used to say about life in Russia. She smiled ruefully and replied, "We used to tell these jokes on ourselves." I'll never forget that exchange.
This lady, holding a Doctorate of Linguistics from a good family had stood in lines to survive! There is no parallel in the Western world since WW-2. As peoples, Americans and Europeans comparatively soft, and fat.
As sanctions take hold...
What is likely to happen as Iran's leaders struggle to demonstrate to its citizens that they have an answer to the renewal of sanctions? I am not a military strategist so I am not going to game out an exact scenario that might unfold. Let's assume the most often discussed scenario. It involves Iran taking steps to interdict oil shipping coming out of the Persian Gulf into the Gulf of Oman. They are uniquely well-positioned to control this section of the ocean from their Naval Port at Bandar Abbas.
(Click to enlarge)
What has kept them from a lot of adventurism in this arena is the presence of the American 5th Fleet, based out of Bahrain. Americans keep a massive force here. It includes two aircraft carrier battle groups. The USS George Washington, and the USS Independence. We also base strategic bombers out of Qatar. America is capable of doing whatever it wishes in this theatre.
The Russians are much weaker militarily in the Persian Gulf, but have advanced fighter-bombers, SU-57s based in Syria, that Iran would probably allow them to base at Bandar Abbas in the event of a conflict. These are the latest entries into Russia's air assault forces, and although untested in battle, should be considered formidable.
The world is probably fortunate that Russia's sole remaining aircraft carrier, the Admiral Kuznetsov, is in dry-dock for extended upgrades. Were it available, Putin would undoubtedly move into the Persian Gulf at the behest of Iran, and for reasons of their own. In thus doing, dramatically increasing the inherent risks I see in the coming months. There is no stronger statement of national power than the movement of an aircraft carrier to a region of conflict.
As the sanctions have taken hold as of the 6th of August, and will theoretically reach their maximum limit, Nov. 4th (where no oil is being allowed to be exported from Iran) oil tankers from Saudi, Kuwait, and Iraq passing through the straits of Hormuz to reach the Gulf of Oman, must be considered at risk. Oil tankers are easy targets for capture or...kill.
Iran has been selling roughly 4.6 mm BOPD into world markets as of July this year. They badly need these dollars and have been working to establish alliances with China and India to keep shipments going. Countries now buying oil from Iran are under a strict edict from the U.S. State Dept. Thus setting up a potential for several possible outcomes, as the Iranian economy is squeezed. Outcomes should tend to push prices higher. Perhaps abruptly so.
In summary
I think the stage is set for an explosive confrontation between the two military super powers if Iran becomes aggressive towards the shipping going through the Gulf. I believe that Iran will move militarily to punish the world for acquiescing to American sanctions, as a face-saving gesture.
If the U.S. responds militarily, as we almost surely will, or the sanctions would just fall apart, there exists the potential for Russian and American airmen to face direct conflict.
(Click to enlarge)
A few salient points. Neither Saudi Arabia, Russia, or the U.S. have the capacity to make up the loss of 4.4 mm BOPD from world markets. While all three countries have boosted their production in recent months, there will still be a net deficit on world markets. If the U.S. enforces these sanctions strictly, as we have to assume they would, there will be short fall of over a million BOPD reaching global ports, under the best scenario. I am taking into account that during the last sanction period Iran still manage to sell 3.2 mm BOPD. But, then we have to remember that this U.S. administration is much more likely to enforce them strictly.
So, regardless of the political situation in Iran, there is going to be shortage of oil soon no matter what, in my view.
When you add the likelihood that Iran's government will take action to show the sanctions are toothless, to some of the other well-known factors affecting supply, it is a very reasonable case to assume that oil prices will move up over the next few months. With the projected imbalance between supply and demand, there could also be disruptions in shipping.
In the next installment of this series we will discuss my thoughts on what the likely impacts on oil prices and availability might be in the event of open conflict.
By David Messler for Oilprice.com
More Top Reads From Oilprice.com: