Oil prices took a breather in early trading on Friday, raising questions over what will happen next. Can the rally continue, pushing Brent well into the $70s? Or will prices retreating, having already gone too far?
Depends on who you ask. There's no shortage of opinions on which way oil will go next, and consensus remains elusive.
Bullish voices point to steady improvement in the fundamentals. Inventories continue to fall, with the EIA reporting another strong drawdown in crude stocks for the week ending on January 5. At 419 million barrels and falling, U.S. crude inventories have not been this low since early 2015.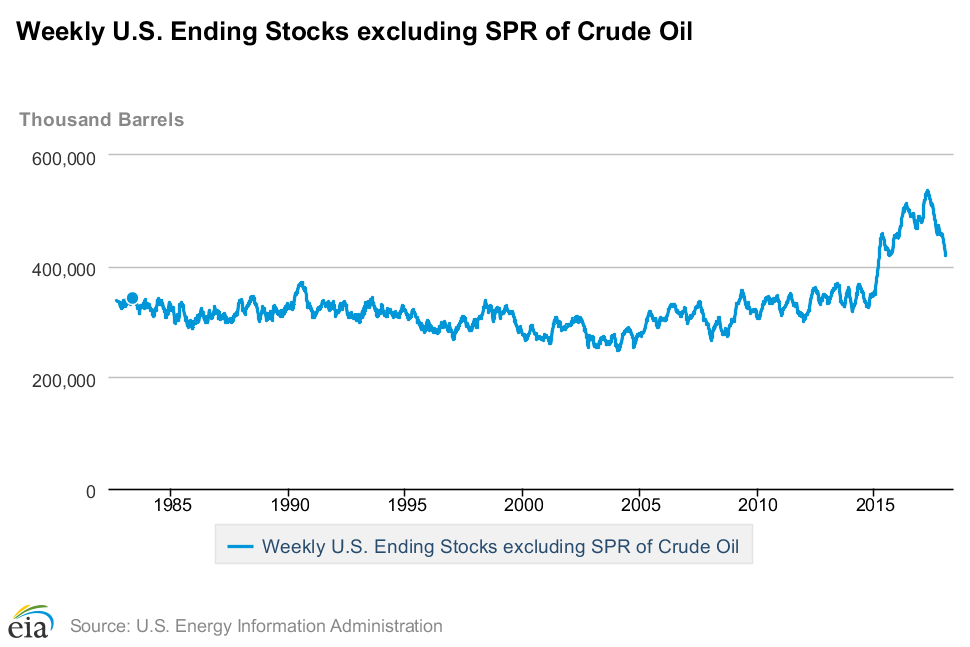 (Click to enlarge)

Most major analysts, including the IEA and EIA, predict that inventories will resume climbing in the first half of 2018, but for now, the drawdowns continue to tighten the market. "The inventory report still shows that crude stocks are plummeting like a stone," Adam Wise, of John Hancock Financial Services Inc., said in a Bloomberg interview.
Demand also looks strong, although specific figures vary depending on the forecast. OPEC sees demand growing at a brisk 1.5 mb/d in 2018; the IEA expects a softer 1.3 million barrels per day (mb/d) this year.
But some unforeseen geopolitical fires are adding some jitters to the market. Production is falling fast in Venezuela, the outages in the North Sea in December tightened supplies a bit, and uncertainty over what to expect from the Washington-Tehran confrontation is helping to push up oil. The market is seeing "falling inventories and rising geopolitical risk and that signals higher oil prices," Rob Thummel, managing director at Tortoise Capital Advisors LLC, told Bloomberg.
All in all, oil bulls say the fundamentals, at this point, justify the strong gains in oil prices. "Pretty much all of the fundamental boxes are supportive of the current rally and a bit more," said Paul Horsnell, head of commodities research at Standard Chartered Plc in London, according to Bloomberg.
On the flip side, there are those that argue the rally is overstretched. One of the main reasons for the price gains is concern over geopolitical outages that really are not materializing, aside from a slide in Venezuela.
In reality, hedge funds and other money managers have amassed a staggering proportion of bullish bets, with long bets spiking and shorts running for the exits. The dramatic net-length in the futures market has accelerated the price gains, and may have outstripped what is justified based on the market. A short-term price correction is in order if speculators liquidate their overwhelming long positions on crude.
The fundamentals also raise some red flags. Inventories are still expected to tick up in the first and second quarter. The IEA expects supply to exceed demand by 200,000 bpd on average in the first half of the year. Related: $60 Oil Will Not Last Long
Perhaps most importantly, the bears point to eye-watering production growth from U.S. shale. OPEC says 1 mb/d additional output this year from the U.S., others see much more. "The market is as bullish as it gets at this point, with little further upside left for now," said Bjarne Schieldrop, chief commodities analyst at SEB. The EIA recently estimated U.S. production will average 10.3 mb/d this year (an upward revision from last month's forecast). SEB says even that aggressive forecast understates the case. "If Lower 48 States (ex Gulf of Mexico) instead continues to grow like it did in H2 2017 (+130 k bl/day/month), then total U.S. crude oil production will average 10.8 m bl/day in 2018," Schieldrop said. To reiterate, the EIA sees the U.S. averaging 10.8 mb/d net year and SEB sees the U.S. averaging that amount this year.
"Seventy dollars is too much," said Eugen Weinberg, head of commodities research at Commerzbank AG in Frankfurt, according to Bloomberg. "It's not completely unexpected, given the price momentum. But there will be a reaction in U.S. shale, and OPEC's strategy will backfire massively."
The middle-of-the-road voices, of which, it should be noted, there are many, see the market reaching the long-sought-after "balance" at some point this year. That was a refrain echoed by UAE's energy minister on January 11, although he cautioned that prices could go lower in the short-term. "I have no doubt that the market needs further correction. We still have more a than 100 million barrels that needs to be taken care of," Suhail al-Mazrouei said on Thursday. Still, 2018 will be the year of "the market fully achieving the balance."
By Nick Cunningham of Oilprice.com
More Top Reads From Oilprice.com: