Oil prices rallied on Friday morning after seeing some of their worst weeks in some time as bearish news continues to pile up.
(Click to enlarge)
(Click to enlarge)
(Click to enlarge)
(Click to enlarge)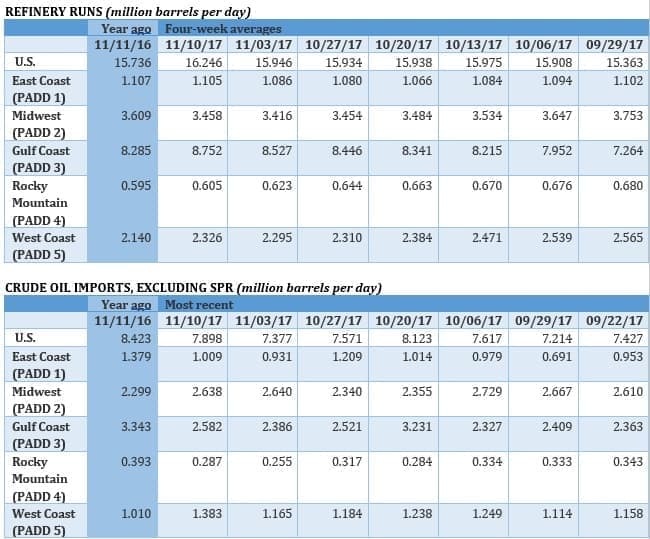 (Click to enlarge)

(Click to enlarge)
(Click to enlarge)
Friday, November 17, 2017
Crude benchmarks posted steep losses this week in the wake of the incredibly bearish assessment from the IEA. The losses continued on Wednesday and Thursday after the EIA reported a surprise uptick in crude inventories. However, oil regained some ground in early trading on Friday on hopes that OPEC would extend its production cuts.
Saudi energy minister reassures market on cuts. Saudi Arabia's energy minister tried to assuage oil market concerns about OPEC's actions. "We need to recognize that at the end of March we're not going to be at the level we wanted to be, which is at the five-year average," Khalid al-Falih said in a Bloomberg television interview Thursday. "That means an extension of some sort is needed. My preference is to give clarity to the market, and announce on Nov. 30 what we are going to do." But the problem is that the oil market has already baked in the cuts into current assumptions. "Anything apart from an extension to the end of 2018 is likely to send the oil price into an immediate tailspin," analysts at Commerzbank said. "In our view, the key factor in the supply-demand equation is the U.S. shale sector—something OPEC is keen to play down through its constant comments on the agreement to cut production."
Tesla introduces electric semi truck. Elon Musk hoped to deflect from Tesla's (NYSE: TSLA) recent troubles on Thursday, where he unveiled an electric semi that he promised would drive like a sports car. "This will blow your mind clear out of your skull and into an alternate dimension," he wrote on Twitter this week. The introduction of the new semi comes as Tesla's Model 3 is behind schedule and investors are starting to worry about the company's cash burn rate.
Keystone pipeline spills. TransCanada's (NYSE: TRP) Keystone pipeline spilled about 5,000 barrels of oil, or 210,000 gallons, in South Dakota on Thursday, just a few days ahead of a crucial decision by the Nebraska Public Service Commission on the fate of the company's proposed Keystone XL pipeline. The older Keystone pipeline, which runs from Alberta to the Gulf Coast, was shut down after the leak. Critics of the Keystone XL project seized on the news, citing the leak as exactly the type of threat that comes with the proposed pipeline.
Venezuela, PDVSA officially default. S&P said on Monday that Venezuela was in default, but that was followed up by a decision by the International Swaps and Derivatives Association (ISDA) on Thursday, which officially declared that PDVSA's missed bond payments constituted a default, triggering debt default insurance payments, or credit-default swaps. On Wednesday, Russia said it had agreed to allow Venezuela to stretch out repayments on over $3 billion in debt over the next decade, but that will not be enough to dig Venezuela out from under the enormous debt pile it owes elsewhere.
Siemens announces 6,900 job cuts. The German conglomerate is slashing its workforce by about 2 percent, the result of large investments in natural gas turbines that have not panned out because of the unfolding transition to renewable energy. Both Siemens and its American rival, GE (NYSE: GE), have reported disappointing bookings for its gas turbines, and both have pointed to the rise of wind and solar as a reason why its gas unit is struggling. "The power-generation industry is experiencing disruption of unprecedented scope and speed," Lisa Davis, a board member at Siemens with special oversight of the power-and-gas division, said in a statement.
Norway's sovereign wealth fund could divest from fossil fuels. Norway's $1 trillion sovereign wealth fund, the largest in the world, has proposed divesting itself from oil and gas stocks. The move provides a jolt to the fossil fuel divestment campaign, but crucially, instead of citing climate change concerns, the fund, along with Norway's central bank, wants to avoid exposure to volatile oil prices. The fund is a major investor in the oil majors, holding sizable portions of BP (NYSE: BP), Eni (NYSE: E), Royal Dutch Shell (NYSE: RDS.A) and ExxonMobil (NYSE: XOM), to name a few.
Offshore oil service firms lead bankruptcies. This year's energy bankruptcies are largely concentrated in offshore oil service companies, according to a new survey from Haynes and Boone. Still, 2017 has been a much quieter year in terms of the number of companies seeking bankruptcy protection. There were an estimated 44 oilfield services companies that filed for bankruptcy in the U.S. and Canada this year, down from 72 in 2016. Related: Oil Prices Could Double If Middle East Conflict Escalates
Shell and Hess idle Gulf of Mexico projects on fire. Royal Dutch Shell (NYSE: RDS.A) and its partner, Hess (NYSE: HES), shut-in four oil platforms in the Gulf of Mexico after a fire on November 8. A combined 75,000 bpd of oil and 215,122 million cubic feet per day of natural gas production have been shut down. Shell's Enchilada, Salsa and Augers platforms were closed, and Hess shut its Baldpate platform.
Major automakers step up EV investments in China. In addition to Tesla's truck announcement, a few other automakers made news as well. Volkswagen said it would spend $12 billion with its partners to develop new EV models for the Chinese market. The investments will be made by 2025 and will result in 40 new models for China. Meanwhile, Toyota said it would introduce new EV models for China and India by 2020.
U.S. could end EV tax credit. The major tax reform bill under consideration in Congress includes a repeal of the $7,500 federal tax credit for electric vehicles. China and the U.S. appear to be heading in opposite directions on EVs, with Beijing stepping up incentives to make the transition.
By Tom Kool for Oilprice.com
More Top Reads From Oilprice.com: