After a slide last week, Brent and West Texas Intermediate started the week with a modest increase thanks to an announcement from Treasury Secretary Steven Mnuchin that the trade war between the United States and China has been "put on hold" for the time being. The two, Mnuchin said, were currently working on a wider trade agreement, after the exchange of tariff threats that rattled markets earlier this year.
Additional fuel for prices came from Venezuela, where incumbent president Nicolas Maduro most likely won the vote yesterday, which will prompt a reaction from the United States, and this reaction will likely target the crisis-stricken country's main revenues source—its oil industry. Venezuela's oil is already deep in the doldrums with production at the lowest in 70 years and still falling, and with Conoco seizing essential PDVSA assets in the Caribbean.
Yet the upside potential of oil prices is limited as many industry insiders and analysts believe there is ample supply to respond to rising demand. None other than Saudi Arabia's Energy Minister Khalid al-Falih last week told media there is no reason for Brent to go higher than US$80 as there is enough oil being produced globally to match demand. The statement was a bit puzzling as al-Falih has actively been pushing for Brent over US$80 a barrel.
Shale oil production in the United States is also acting as a deterrent to prices. In the week to May 11 the average daily in the U.S. hit 10.72 million barrels largely thanks to the surge in shale production, which, according to BP's Bob Dudley, will push oil back down to between US$50 and US$65 a barrel. OPEC stepping in to cover potential supply shortages from Iran after U.S. sanctions kick in later this year will help the downward pressure, Dudley told Reuters.
In futures markets, according to the latest CFTC commitment of traders report, large speculators, defined as "Managed Money" and "Others," reduced their net long position 44,290 contracts, without "Managed Money" significantly increasing their short position, while Producers, Merchants, Processors and Users (PMP) increased their longs 12,238 contracts and reduced their shorts 26, 971 contracts for an increase to their net long position of 39,208 contracts to an unusual 50,933 contracts net long.
According to Jack Walker of Ivolatility, the "PMP" net position is typically net short as producers hedge production by shorting futures contracts, but this not the current situation as the chart below shows.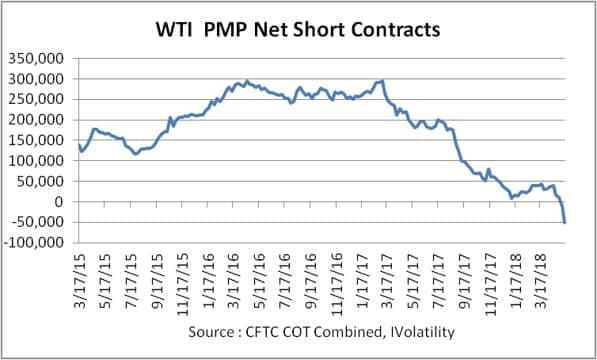 (Click to enlarge)
At the time of writing, Brent crude was trading at US$79.11 a barrel, up 0.76 percent from Friday's close, and West Texas Intermediate was at US$71.93 a barrel, up 0.78 percent.
By Irina Slav for Oilprice.com
More Top Reads From Oilprice.com: