It has been a dismal week for oil prices despite a slight recovery on Friday morning, but there may be a silver lining to the most recent price crash.
Investor Alert: A new breakthrough – known by only a handful of scientists, researchers and insiders – is about to turn the energy world upside down. And one small company is at the center of it all. Get the full report here.
(Click to enlarge)
(Click to enlarge)
(Click to enlarge)
(Click to enlarge)
(Click to enlarge)
(Click to enlarge)
(Click to enlarge)
(Click to enlarge)
(Click to enlarge)
(Click to enlarge)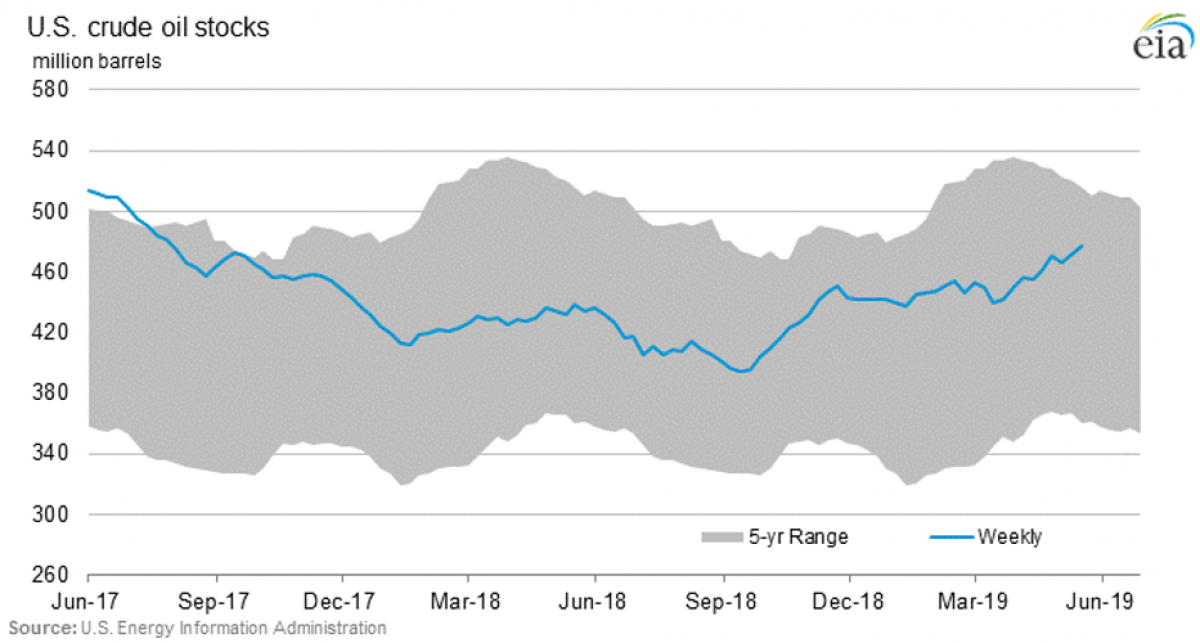 (Click to enlarge)
(Click to enlarge)
(Click to enlarge)
(Click to enlarge)
Oil rebounded on Friday but it was not enough to erase the roughly 7 percent meltdown seen on Thursday. The trade war is starting to become a top concern for global equity and commodity markets. As of mid-day, WTI was trading above $58 per barrel and Brent moved above $67, somewhat mitigating what has otherwise been a dismal week. On the upside, the plunge in prices and the renewed bearishness undercuts the rationale for OPEC+ to increase production. "It is reasonable to doubt whether Saudi Arabia will be willing to step up its output given the latest decline in prices," analysts at Commerzbank said. "We therefore expect to see higher oil prices again in the near future."
Chinese demand takes a hit. Demand for fuels in China is showing weakness, with teapot refineries seeing inventories building up. Gasoline inventories in Shandong province have surged to their highest level since 2011, according to Bloomberg. The refiners are losing $8 on every barrel they produce. "It's all because of very sluggish downstream demand, especially on the gasoline side," Gao Jian, an oil analyst at Zhao Jin Futures, told Bloomberg. Refiners are starting to cut run rates.
U.S. threatens sanctions on Venezuelan jet fuel. In a bid to tighten the screws further, the U.S. told several European trading houses to stop selling Venezuela jet fuel or else they will face sanctions.
China signals rare earths cut off to U.S. Chinese President Xi Jingping took a trip to a rare earths plant during a domestic tour this week, which analysts took as a signal that the government is considering using its rare earths export as a weapon in its trade war with the United States. China accounted for about 71 percent of mined rare earth elements last year, and an even higher ratio of processed rare earths, according to Reuters. The U.S. relies on China for 80 percent of its imports. However, any cut off would be detrimental to China as well.
U.S. manufacturing activity weak. U.S. manufacturing growth fell to its lowest reading in nearly a decade, a sign that the trade war may be impacting the economy. IHS Markit said its Purchasing Managers Index (PMI) declined to 50.6 in May, the lowest level since September 2009. Anything below 50 is an outright contraction. Separately, in a speech this week, U.S. Federal Reserve Chair Jerome Powell warned about rising corporate debt.
Total looks to sell stake in Kashagan. Total SA (NYSE: TOT) is hoping to sell part of its stake in the Kashagan oil field, the massive field in Kazakhstan. Total has a 16.8 percent stake and is looking to raise $4 billion by selling a third of its position. Kashagan was the world's most expensive oil project.
Talos Energy eyes Anadarko's offshore assets. Talos Energy (NYSE: TALO) is interested in buying some of Anadarko Petroleum's (NYSE: APC) deepwater assets in the Gulf of Mexico.
Shell starts up Appomattox platform. Royal Dutch Shell (NYSE: RDS.A) started up its Appomattox platform in the Gulf of Mexico ahead of schedule. The project is the only major platform expected to come online in the Gulf this year. It is expected to produce 175,000 bpd.
Russian oil contamination not over. Russia tried to quickly resolve the oil contamination problem through its Druzhba pipeline but hit a setback this week. French oil company Total SA (NYSE: TOT) saw its Leuna refinery damaged, and reports suggest it may have been linked to receiving contaminated oil. The largest-ever outage to hit Russia may continue.
Oil volatility set to jump. Despite the series of supply outages and the prospect of an escalating trade war, oil price volatility had been rather subdued this year. That is, until this week. A new report predicts that the oil market is in for a "bumpy ride" in the second half of the year.
BP to look at frontier exploration. After several years of pursuing more cautious tie-back projects offshore, BP (NYSE: BP) said that it was considering more ambitious frontier exploration. It's a sign that the oil majors are willing to take on greater risk once again, after several years of stepping back.
Pipeline protestors push back. Texas became the latest state to pass draconian punishments for protestors interrupting oil and gas pipeline construction, measures intended to prevent a repeat of the Dakota Access protests. However, the laws are now facing litigation.
U.S. gearing up to sanction Nord Stream 2. Bipartisan momentum is building for sanctions on companies that help build the Nord Stream 2 pipeline. The U.S. views the pipeline as a geostrategic threat, hooking Europe on Russian gas. But it would also impact U.S. LNG exporters, adding an extra impetus to lawmakers to try to halt the pipeline.
Norway's oil output falls to a three-decade low. Norway's oil production fell to 1.38 mb/d in April, down from 1.531 mb/d a year ago.
Energy storage in U.S. to double. U.S. energy storage capacity is expected to double this year to 712 megawatts, up from 376 MW last year.
Pioneer slashes 25 percent of workforce. Pioneer Natural Resources (NYSE: PXD) announced that it was laying off 25 percent of its workforce, a move that could save it $100 million. Related: The Single Most Bullish Indicator For Oil
Saudi Arabia to buy U.S. LNG. Saudi Aramco agreed to buy LNG from Sempra Energy's (NYSE: SRE) Port Arthur LNG project. Aramco may also take a 25 percent stake in the project. The deal is a dramatic role reversal, with the U.S. sending energy to Saudi Arabia, rather than the other way around.
Texas ranch sells for $450 million. Bloomberg reports on how a remote Texas ranch is set to be sold for $450 million, all because of the land's water resources. Permian drillers are desperate for water, and industry spending on water is set to jump from $11 billion last year to $18 billion by 2021.
Middle East oil suffers discount from IMO rules. Looming IMO rules on sulfur fuels could push Middle East oil to a heavy discount. Dubai crude could fall to a $8-per-barrel discount to Brent, deeper than the current $4 discount, according to Citi. High-sulfur fuels will fall out of favor when the shipping rules take effect at the start of 2020.
By Tom Kool for Oilprice.com
P.S... An urgent piece of research has just come across our desk highlighting what might just be the most significant development in the energy industry since fracking. A group of scientists has discovered a "super-crystal" that is poised to completely transform everything we know about electricity. It's up to 273% more efficient than silicon solar cells, and it can't be painting onto almost any surface. I'm sure you can imagine the implications of such a breakthrough! Learn more about the "super-crystal" and the small-cap stock that has surrounded it in patents here.
More Top Reads From Oilprice.com: