WTI and Brent continued to climb higher on Friday and more bullish indicators suggest the rally has only just begun.
(Click to enlarge)
(Click to enlarge)
(Click to enlarge)
(Click to enlarge)
(Click to enlarge)
(Click to enlarge)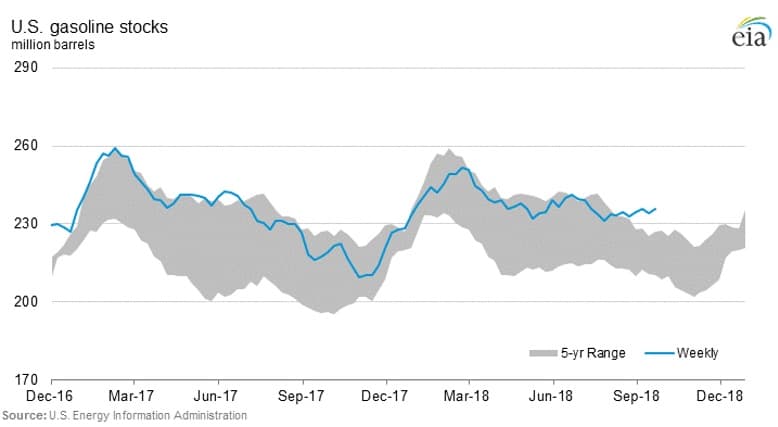 (Click to enlarge)
Friday, September 28, 2018
WTI and Brent held onto their gains during early trading on Friday and look set to close out the week strongly up. The tension between dwindling Iranian supply and the extent to which Saudi Arabia will increase production is sure to dominate the market narrative over the next few weeks.
Oil traders almost uniformly bullish. The mood at the Asia Pacific Petroleum Conference (APPEC) in Singapore was highly bullish on oil prices in the short-term, largely because of the supply losses from Iran. Bloomberg also noted that the number of Brent options has surged to its highest ever, "driven by record call trading, including bets on $100." Oil traders Mercuria and Trafigura see global production losses of about 2 million barrels per day and 1.5 mb/d, respectively, mostly related to Iran.
EU financing vehicle for Iran probably won't help oil. The "special purpose vehicle" to help Iran continue to do business with European companies may not have much of an impact on the oil trade. Buyers are not likely to be entirely protected from U.S. secondary sanctions. "I think it is a welcome development," Daniel Martin, a partner and sanctions expert at Holman Fenwick Willan in London, told Bloomberg. "But oil is not the arena it is going to be tested and used first."
Total SA sees $100 oil. Total SA (NYSE: TOT) CEO Patrick Pouyanne says $100 oil is possible but isn't excited about it. "I'm not sure it's a good news" he told Bloomberg. "Even for the oil industry, because you know, when price goes too high then you open the door to your competitors" while demand will likely decline, he said.
Saudi Arabia fears supply glut. OPEC+ decided against further production gains last weekend, although Saudi Arabia has indicated it would increase production in September and October. However, Saudi Arabia is also wary about creating a new supply glut, as the market will see a seasonal dip in demand in the winter. Riyadh is running the risk of a supply crunch in the fourth quarter, but Saudi officials fear the opposite problem if they increase production too much.
How much spare capacity does Saudi Arabia have? As the oil market tightens, scrutiny over Saudi Arabia's spare capacity is picking up. Saudi Arabia claims it can produce up to 12.0-12.5 mb/d, implying spare capacity of at least 1.5 mb/d. Analysts and industry insiders are skeptical. Bloomberg reports that executives at the Asia Pacific Petroleum Conference in Singapore privately questioned Saudi Arabia's ability to even go beyond 11 mb/d. "Near-term spare capacity is effectively maxed out," Amrita Sen of consultant Energy Aspects Ltd. said.
Texas frac sand replacing Wisconsin white sand. Shale drillers have relied on high-quality white sands from Wisconsin for their operations for several years, but new sand mines in Texas are opening up, pushing out sand supplies from far away. Hi-Crush Partners (NYSE: HCLP) announced plans this week to idle an operation in Wisconsin due to "temporary softness in completions activity and frac sand demand," the company said. The decision is a sign that new Texas mining operations are making the market tough for sand suppliers that are located far away from drilling operations.
Oman benchmark price surges. The Oman oil benchmark on the Dubai Mercantile Exchange spiked this week as speculators bid up the price on fears of supply outages in Iran. The Oman price gained 11 percent in two days and is now more expensive than Brent. "It is very unusual to see DME at a premium to ICE Brent, let alone at such a high level. Given that the vast share of Omani crude is delivered to China, it is easy to conclude that it is the main driver for this unusual jump," JBC Energy said in a note.
Permian pipeline woes may not be so bad. The pipeline bottleneck may end sooner than expected as pipelines are being fast tracked, according to a new report from Raymond James. The backlog should ease by late 2019, and the discount for WTI in Midland won't be as wide as feared. The firm downgraded its estimated discount for Midland WTI to just $15 per barrel relative to Brent, down from an earlier estimate of $25.
Shell looks at stake in Gazprom project. Royal Dutch Shell (NYSE: RDS.A) is reportedly considering buying a stake in a project spearheaded by Russian gas giant Gazprom. If Shell moves forward, it would be a rare move into Russia, which has been under western sanctions since 2014. "For Gazprom Neft, it's a chance to raise quick money, while for Shell - to get cheap reserves," a source told Reuters.
Related: Shell CEO: $80 Oil To Boost Energy Infrastructure Investment
ExxonMobil completes phase of Beaumont refinery. ExxonMobil (NYSE: XOM) said that it has completed a nearly $500 million expansion of its Beaumont refinery, which will give it greater capacity to refine light oil from Texas shale fields. More expansions are on the way, including a plastics production facility. The Beaumont site could soon become one of the U.S.' largest refineries.
SEC sues Elon Musk. Elon Musk has been sued by the U.S. Securities and Exchange Commission for fraud related to Musk's tweet about possibly taking Tesla (NASDAQ: TSLA) private. The suit could result in Musk being barred from running the company. Tesla's share fell more than 4 percent in after-hours trading on Thursday.
New battery could break lithium dependence. A new battery from NantEnergy, headed by the California billionaire Patrick Soon-Shiong, operates on only zinc and air, and may even cost less than lithium-ion batteries. The zinc battery could allow the energy storage industry to move beyond lithium, where production is concentrated in just a handful of countries and is expected to struggle to keep up with demand.
By Tom Kool for Oilprice.com
More Top Reads From Oilprice.com: