With tankers detained and drones shot down the geopolitical mess surrounding Iran does not look to be ending anytime soon. Iran's seizure of a UK-owned chemical tanker and the brief detainment of a crude-laden VLCC, coupled with the sudden shutdown of the Sharara field in Libya, sent crude prices upwards early this week. Risks of a more serious conflict rose even higher when the US Central Command reported that a second Iranian drone had been shot down over the Strait of Hormuz and sanctioned the Chinese state-owned oil company Zhuhai Zhenrong for buying Iranian crude. The resumption of US-China trade talks offered some relief for markets, but bearish sentiment was cooled by a substantial US crude inventory drawdown.
As of Wednesday afternoon, global crude benchmark Brent traded within the $63.9-64.2 per barrel interval, whilst US benchmark WTI was assessed around $56.9-57.1 per barrel.
1. Influx of US Crude Puts Pressure on WAF Grades
- West African crude trading has been under tangible pressure from US crude movements which supplant them from traditional hubs of demand.
- Whilst WAF grades generally trade for 2 months in advance, traders are still seeking to clear August-loading cargoes, both Angolan and Nigerian.
- For the moment the supply overhang is not yet reflected in the market's assessment of the crudes (even though the August OSP are already out) as the Nigerian crudes' tender season still did not close.
- If, however, the end of the tender season does not bring about any substantial change in assessment, sellers of Nigerian crude may face a panic sell-out of remaining July-loading cargoes.
- The relative inexpensiveness of US volumes has resulted in a surge of American exports to NW Europe, primarily into the United Kingdom, which accounted for 43 percent of all US exports to the Old Continent this July.
- US crude exports to Europe averaged 576kbpd so far in July 2019, with the United Kingdom taking in 248kbpd.
2. India Pushing Forward with Refining Capacity Expansion
- India's oil minister Dharmendra Pradhan claimed India will be on track to boost its total refining capacity by a further 4mbpd in the next 20 years, from today's level of 5mbpd.
- Indian refiners are widely known for their overutilization of nameplate capacities, April 2018 being the last month on track when the aggregate Indian refinery runs were lower than their nominal capacity (still at 98 percent though).
- Despite the anticipated rise of EVs on the Indian market, the oil ministry expects oil demand to reach 8.8mbpd by 2030, thus the 4mbpd refinery capacity expansion would only be enough to cover domestic needs.
- Pradhan also claimed that India's oil demand is assumed to attain 10.6mbpd by 2040, which would result in a 1.5mbpd worth of gap between domestic demand and refining capabilities.
- Given that India traditionally exports 20-25 percent of its oil products to adjacent South Asian countries, the required refining expansion ought to be even more ambitious if it does not want to lose its existing market outlets.
- Anticipated refinery capacity additions consist primarily of brownfield refinery upgrades, with only two greenfield ones – the 180kbpd Nagapattinam (Tamil Nadu) and the 180kbpd Barmer (Rajasthan) Refineries.
3. Nigerian August-Loading OSPs Drop for Once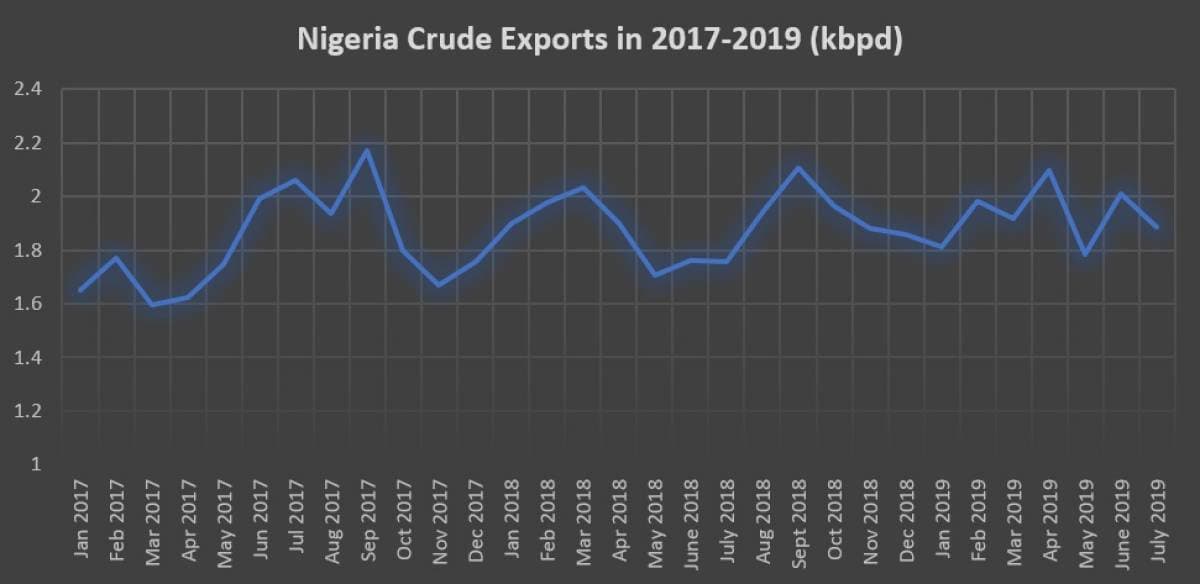 - The Nigerian national oil company NNPC has dropped the majority of its August-loading OSPs, reflecting weaker demand for light sweet WAF crudes in Europe.
- The prices of Nigerian flagship grades Qua Iboe and Brass River were decreased by 58 and 51 cents per barrel respectively, whilst Bonny Light and Forcados were down 41-47 cents per barrel.
- Simultaneously, NNPC has awarded 34 contracts for its 2019-2020 direct sale-direct purchase (DSDP) program under which it allocates a given amount of crude in return for oil products of equivalent value.
- Oil majors are compelled to team up with local Nigerian companies – Vitol, BP, Litasco, Total and CEPSA were all among the selected parties.
- The new head of NNPC Mallam Kyari was responsible for the DSDP program before he was promoted, ensuring continuity of top-level backing as Nigeria still struggles to run its refineries anywhere near their nameplate capacities.
- Nigerian crude exports have contracted a bit in July, down 6 percent month-on-month at 1.89mbpd (from June's 2.01mbpd export rate).
4. Valve Closure Prompts Sharara Shutdown
- Libya's NOC was forced to shut down the El Sharara oilfield over the weekend, due to a closed valve that was reportedly sealed by a group of vandals.
- By Sunday evening however NOC technicians were able to locate the shut valve and lift the state of force majeure, as introduuced on Saturday morning.
- Despite the force majeure lift, this week did not see a single El Sharara cargo loader in the port of Zawia, where volumes from both El Sharara and El Feel are transported for further exports.
- The incident raises fears that the Zintan Brigades might be looking into disrupting Sharara's infrastructure again, as the majority of Libya's oil segment is now under direct or indirect control of Field Marshal Haftar.
5. Asian Markets Dominate Forties Exports
- In one of our April issues of Oil Insider we have raised the issue of Forties increasingly becoming the lynchpin BFOE crude for Asian buyers, a handy tool to keep the Brent-Dubai spread palatable depending on the conditions.
- In June-July 2019 Forties cargoes have gone exclusively to the Asia Pacific region, with both months witnessing 3 China-bound and 1 South Korean VLCC delivery.
- This Autumn might witness a further shift of Forties' exports, with South Korea becoming the hottest market outlet for the crude, buttressed by the recently concluded EU-South Korea free-trade deal.
- South Korea was a notable buyer of Forties in 2018, averaging a 80kbpd monthly import rate, however its purchases of the North Sea crude dropped to a mere 15kbpd in H1 2019.
- Chinese buyers have concurrently demonstrated an unusual interest for July and August-loading Murban cargoes from the UAE which might hamper their interest in purchasing Forties.
6. Kashagan Shareholders Moot Extension Project
- Coming back from the supergiant oil field's first-ever maintenance period, Kashagan production is said to have reached its planned peak production rate of 370kbpd.
- The maintenance works included the redevelopment of the field's offshore gas injection complex which would allow NCOC, the operator, to go beyond the supposed first-phase peak and aim for a 450kbpd production plateau.
- Having started preliminatory work on Kashagan 2nd development phase, NCOC has concurrently expressed its interest in including the Khazar and Kalamkas-More fields into the Kashagan oil flows.
- Even though the shareholders do not expect a FID on the two adjacent fields before 2022, they believe the add-in might boost total output by a further 100kbpd.
- Creating synergies between the two projects is rendered more difficult by the different shareholder lineup – Khazar's development is allotted to a JV that sees Royal Dutch Shell, KazMunayGaz and Oman Oil split the shares (55, 25 and 20 percent), with Shell acting as operator.
7. Tacit Ghanaian Discontent on the Results of First-Ever Licensing Round
- Last week we reported on the Ghanaian authorities allotting the offshore Block 03 to the ENI-Vitol consortium, the second block to be offered in the African country's licensing round.
- As much a success as the consolidation of ENI's footing in Ghana is, the results of the offshore licensing round seem to be quite disappointing on balance.
- Several global oil and gas majors have withdrawn from the bidding process, amongst them BP, Total, ExxonMobil and a couple of others.
- Argus reported that the relevant companies complained about the quality of seismic data provided in the licensing round as well as repining against the relative small size of the offered blocks.
- The small block size adds a gives an edge to majors already present in Ghana (i.e. ENI's tie-in of Block 03 production to the Sankofa hub it operates) whilst deterring new companies.
- Block 02 is the only lot that was allocated so far apart from ENI-Vitol's Block 03, landing in the hands of largely marginal Nigerian and Ghanaian firms, FEPD and Elandel Energy.