Oil prices have continued their climb following a week of bullish news, and with geopolitical tensions reaching a boiling point, prices are poised to head even higher.
(Click to enlarge)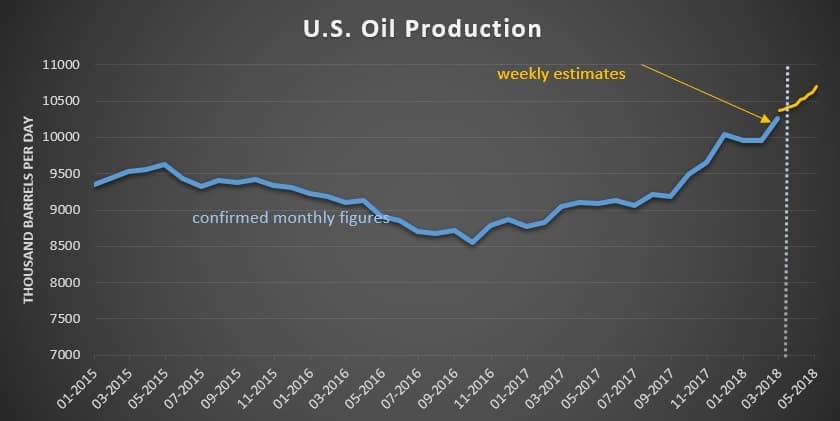 (Click to enlarge)
(Click to enlarge)
(Click to enlarge)
(Click to enlarge)
(Click to enlarge)
Friday, May 11, 2018
Iran continues to dominate the headlines, keeping WTI above $71 per barrel and Brent at $77 per barrel as of early trading on Friday. The exchange of airstrikes between Iran and Israel is also adding to the tension. Meanwhile, aside from the huge increase in U.S. oil production, the EIA reported some bullish figures this week – a decline in both crude oil and gasoline inventories by more than expected.
OPEC sees Iranian outage as not immediate. Any loss of supply from Iran due to U.S. sanctions will take time, and OPEC won't rush to increase output in the interim, sources told Reuters. The steep losses from Venezuela combined with the potential disruption in Iran could force OPEC to adjust production levels earlier than it had expected. But because U.S. sanctions don't really take effect until November, OPEC is not scrambling just yet. "I think we have 180 days before any supply impact," an OPEC source said. They will meet in Vienna in a month to evaluate the current status of the oil market and the production limits.
Short-term supply glut eases Iran fears. Although supply outages from Iran could severely tighten the oil market, Bloomberg reports that there is currently a bit of a supply glut, which should prevent a sudden price spike. Oil traders have reported unsold cargoes in north-west Europe, the Mediterranean, China and West Africa. The sudden emergence of a temporary glut is reflected in the Brent timespreads, with the July-August spread falling from 63 cents per barrel last month to just 24 cents per barrel this week, a five-month low. The narrowing of the spread is a "sure sign of an oversupplied market," Bloomberg reports. However, timespreads further out are widening, a sign that the market expects things to tighten up towards the end of the year.
What will top buyers of Iranian oil do? China is the largest single buyer of oil from Iran at about 700,000 bpd. South Korea comes in second at a little over 250,000 bpd. The Trump administration's plan of squeezing Iran hinges on the decisions made by these buyers. They have until November to reduce their purchases, although the U.S. Treasury told them to begin immediately. Still, it will be tough for U.S. diplomats to convince them. A spokesperson from the Chinese Foreign Ministry said that "normal, transparent and pragmatic cooperation with Iran" would continue.
California mandates rooftop solar on all new houses. California became the first state to mandate all new home construction come equipped with solar panels beginning in 2020. The law could add $10,000 to the cost of buying a house, although it could cut the cost of energy and maintenance by $19,000 over 30 years. Solar stocks soared on the news while homebuilders declined. Sunrun (NASDAQ: RUN), the largest residential solar installer in the U.S., saw its share price rise by more than 15 percent. The policy could add as much as 260 megawatts of solar capacity annually to the grid. "This is massive," Morten Lund, chair of an energy storage initiative at law firm Stoel Rives LLP, told Bloomberg. "Essentially, this could turn residential solar into an appliance, like a water heater. There has always been a certain inevitability about that outcome, but this is moving faster than most of us thought likely."
Gasoline prices hit highest level since Hurricane Harvey. Gasoline prices are at their highest point in years, save for the brief spike during Hurricane Harvey last year. Retail prices will surpass $3 per gallon in many more places in the coming days. With most analysts projecting crude oil demand to outpace supply for the reminder of the year, more price gains could be coming. "We don't have a gasoline glut. We don't even have a comfort zone," Tom Kloza, head of energy analysis at Oil Price Information Service, told CNBC. "It's not long term, but you're going to have higher numbers, and you could have drastically higher numbers if you have tropical storm weather during the summer," he added.
ConocoPhillips' action against Venezuela could choke off exports. ConocoPhillips (NYSE: COP) moved to take control over several terminals from PDVSA in the Caribbean. PDVSA's facilities on the island of Bonaire, Aruba and Curacao are crucial for about 16 percent of Venezuela's oil exports. "This is a total disaster" for Venezuela, says Francisco Monaldi, a fellow at Rice University's Baker Institute. "The Conoco situation, as it is, with PDVSA unable to use storage tanks in the Caribbean, is worse than the existing U.S. sanctions." PDVSA is now trying to move cargoes through decrepit and ill-equipped ports in Venezuela and has limited ability to use supertankers. That could make it difficult to ship to China and India, which might mean that PDVSA has to sell oil to U.S. refiners at steep discounts.
Related: Who Was Buying Iranian Oil And What Happens Next?
Permian discount largest in years. The pipelines carrying Permian oil are essentially full, pushing the discount for crude in Midland into double-digits, recently topping $13 per barrel. New pipeline capacity won't come online until the end of 2019. According to PLG Consulting, Permian supply could exceed pipeline capacity by as much as 750,000 bpd by September 2019, before new projects come online. That has producers looking to ship oil by rail and truck. A total of 500,000-600,000 bpd of rail capacity exists, although it would require upgrades to rail cars. Also, crude will have to compete with other products. The bottleneck could force the industry to throttle back on supply growth.
Bank of America says $100 oil is possible. Crude is at risk of $100 per barrel next year due to the declines in Venezuela and the potential losses in Iran, according to Bank of America Merrill Lynch. The bank sees Brent hitting $90 per barrel in the second quarter of 2019, but that could be conservative since it assumes that OPEC increases production. That is why $100 is a viable scenario, the bank says.
By Tom Kool for Oilprice.com
More Top Reads From Oilprice.com: