The potential first delivery of Russian LNG to U.S. shores is ruffling some feathers, due to sanctions in place on Novatek, one of the partners in the Yamal LNG terminal - the apparent origin of the LNG heading to the Everett LNG terminal in Boston. While sanctions may still be in place with certain Russian entities, the U.S. is a regular recipient of Russian oil and products.
The Yamal LNG terminal in Northern Russia is one of the biggest LNG projects in the world. Once running at full tilt, it will supply 16.5 million tons of LNG to the global market annually - heading predominantly to Asian and European markets. The below graphic from S&P Global, pilfered from Twitter, highlights the most common trade routes expected for the Yamal LNG. (Is quite the journey to Asia in the winter, 72 days...).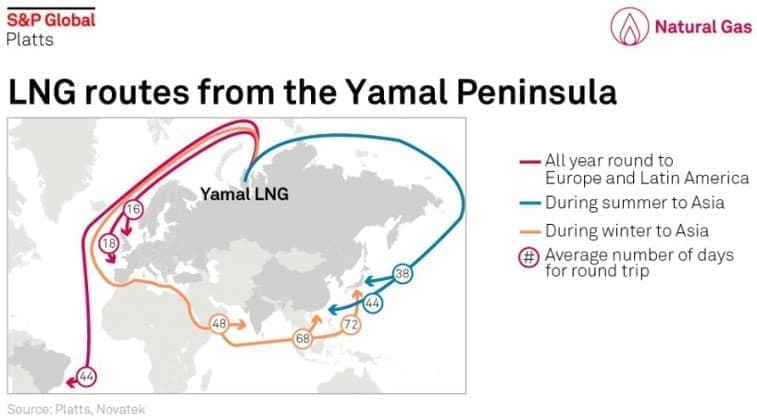 (Click to enlarge)
In terms of total Russian LNG exports, our ClipperData show that flows were 10.7 million mt in 2016, before rising to nearly 12 million mt in 2017, with the Yamal LNG terminal coming online in the final month of the year. We saw three loadings from the Yamal terminal in December (including the cargo heading to Boston via a pit stop in the UK and Gibraltar), but nothing so far in 2018.
(Hark, the LNG tanker, Gaselys, heading to the U.S.)
Even though the U.S. has become a net exporter of natural gas for the first time in 60 years, a lack of pipeline infrastructure in New England amid plummeting temperatures caused by the 'bomb cyclone' has caused the import of LNG from the far-flung destination:
(Click to enlarge)
While the Russian LNG delivery would be the inaugural one to the U.S., flows of Russian crude are much more regular. Our ClipperData show that we've seen an average of 47,000 bpd of Russian grades delivered to 14 different refineries in the last year.
The most prevalent grade is Russian light sweet Sokol (Sakhalin I) blend, which typically heads to the West Coast - but we have also seen light sour ESPO delivered there too. Medium sour Urals makes its way to the East and Gulf Coasts; most recently, 800,000 bbls was discharged at Valero's St Charles refinery in early January.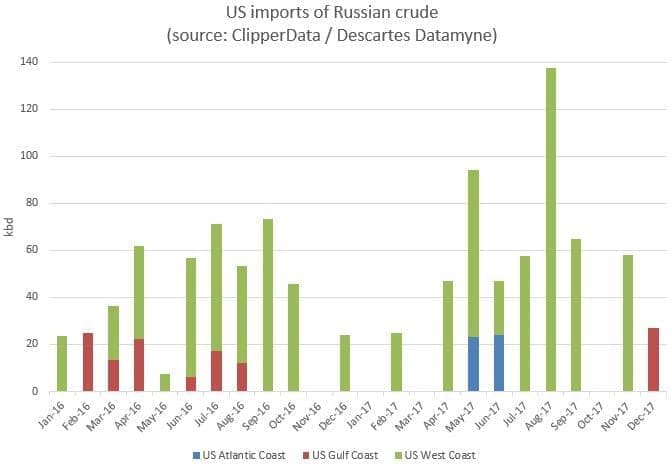 (Click to enlarge)
While the U.S. predominantly draws in Russian crude to the West Coast, the Atlantic coast is a notable beneficiary of Russian gasoline blending components. Russian naphtha imports to the US Atlantic Coast averaged 36,000 bpd last year, on par with 2016 levels, but up 50 percent from 2015.
While a delivery of Russian LNG to the U.S. would certainly be an interesting development, it would be more an indictment of how global energy flows are becoming increasingly intermingled, as opposed to the start of a new trend.
(Click to enlarge)
By Matt Smith
More Top Reads From Oilprice.com: