A few months from now, the U.S. will enter the winter heating season with natural gas inventories at their lowest level in years, setting the stage for pricing risks, particularly if there is a cold snap. However, the tightness could be temporary as shale gas drillers continue to break production records.
A growing number of analysts are waking up to the fact that natural gas storage levels are "dangerously low." For the week ending on August 17, U.S. gas stocks stood at 2,435 billion cubic feet (Bcf), or 684 Bcf below the same week in 2017 and 599 Bcf below the five-year average.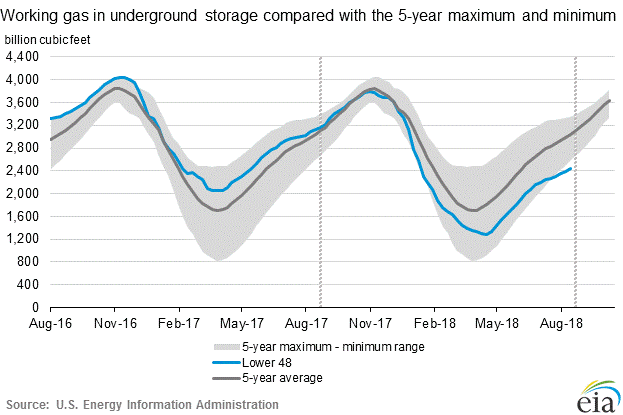 (Click to enlarge)

On its face, a thin margin of supply raises the risk of a price spike this winter when millions of people crank up the heat. Back in the winter of 2014, prices shot up during the "polar vortex" that saw unusually low temperature sweep across much of the country. And earlier this year, prices in New England briefly spiked to $25 per million Btu (MMBtu) during a bout of cold weather.
The same could happen this winter if the mercury drops too low for an extended period of time, especially because inventory levels are so low.
Moreover, gas demand is rising on a structural basis. Coal plants are shutting down, with natural gas – in addition to solar and wind – scaling up to replace them. Tens of billions of dollars poured into downstream petrochemical complexes over the last few years have also resulted in higher levels of gas usage. Finally, new LNG export terminals are diverting U.S. supply overseas.
With inventories low and demand on the rise, the ingredients are in place to finally shake natural gas prices out of their multi-year slumber – prices have been stuck in a narrow band between $2.75-$3/MMBtu for the past few years.
However, while the landscape looks worrying, the market could dodge a bullet and return to another extended period of ample supply. "We anticipate a tight market in 4Q18 before another year of strong production growth drives natural gas prices lower in 2019," Barclays wrote in an August 28 note.
The investment bank acknowledged that low inventories create some bullish pressure, but only revised up its Henry Hub pricing forecast for the fourth quarter of this year to $2.83/MMBtu, up from a previous estimate of $2.53/MMBtu. "Lower assumed end-October storage should shrink the cushion for
winter demand, while higher LNG demand partially offsets production gains," Barclays wrote in its explanation for raising its pricing forecast.
"We anticipate a fundamentally tight start to the 2018/19 winter and are lowering our end-October
2018 storage forecast to 3.4 Tcf, as the market appears content to bank on further production gains to meet demand this winter," Barclays said, noting that storage levels will enter the winter season at their lowest level in a decade.
However, there is little reason to worry because the tightness will only be temporary. Production is still rising, "setting new records almost daily," Barclays argues, which will help eliminate the inventory deficit by the end of peak winter demand season in March 2019. The Marcellus, Utica and Permian plays have added about 5.5 Bcf/d since last year, the bank said. Related: New Crude-By-Rail Service Aims To Ease Permian Bottlenecks
The Permian is suffering from pipeline bottlenecks for both oil and gas, but new pipelines are coming online this year and in 2019 in the Marcellus region, allowing for another step up in production. However, a few of these projects have run into regulatory trouble recently, so Barclays concedes that these delays pose a risk to its sanguine pricing forecast.
The tightest period of time will be the fourth quarter of this year when inventories are at their lowest. But even next year, when a wave of new LNG terminals come online (some of which may enter into service ahead of schedule), the gas market should fare just fine because demand may not grow as quickly as it has in the past. Barclays says only 1.4 gigawatts of coal-fired power plant capacity will go offline in 2019, a small sum compared to previous years. That means gas demand "will not enjoy the same kind of tailwinds it has in the past."
Ultimately, shale drilling continues to add more and more supply, covering for rising demand for the foreseeable future. An unusually cold winter could see jumps in prices, but just as in the past, those spikes will likely be confined to regional markets such as the Northeast, and in any event, the price increases should be temporary.
By Nick Cunningham of Oilprice.com
More Top Reads From Oilprice.com: