Tesla's Chinese exports can expect to be included in the EU's recently announced investigation into Chinese subsidiaries in the EV market, according to EU executive vice-president Valdis Dombrovskis.
Dombrovskis said this week that there was "sufficient prima facie evidence" to support the probe, FT reported on Tuesday morning. We had previously written about the EU's investigation and Beijing's response via The Global Times.
In an interview this week, responding specifically to whether or not Tesla would be included in the investigation, Dombrovskis said: "Strictly speaking, it's not limited only to Chinese brand electrical vehicles, it can be also other producers' vehicles if they are receiving production-side subsidies."
He said he was "constantly pressed by his Chinese counterparts about the probe" after a five day trip to China, FT wrote.
"The EU is now probably the largest market which is open for Chinese producers," he commented, defending the investigation. He said that the EU was "open to competition" but that it "needs to be fair".
During his recent trip to Beijing, Dombrovskis aimed to convince Chinese officials to remove numerous trade barriers that European firms argue led to last year's unprecedented trade imbalance of nearly $400 billion.
Both parties reported some advancement, unveiling a new system to address export controls, a move that echoes a similar initiative between China and the United States. Furthermore, China agreed to increase purchases of agricultural products from the EU.
However, China didn't hesitate to express its discontent over the ongoing anti-subsidy investigation, a topic that came up in every discussion, according to Dombrovskis.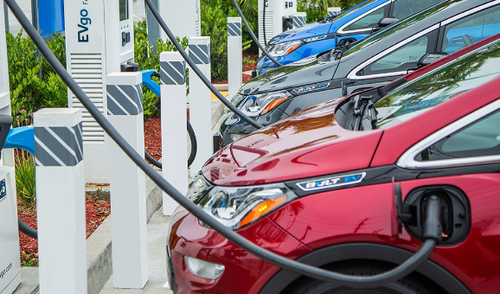 In the electric vehicle sector, Tesla already ships cars to Europe from its Shanghai factory. However, this could change given the inauguration of a Berlin facility last year. Approximately 20% of all electric vehicles sold in Europe are made in China. A recent report by the Center for Strategic and International Studies revealed that in the first half of this year, 11.2% of electric vehicles sold in Germany were manufactured in China.
As we noted days ago, China responded to the investigation via The Global Times, claiming that the EU's probe would likely "backfire" and that the EU's economy would suffer as a result.
The publication said that "...as the EU wields trade protectionist measures to suppress China's EV industry, the European economy may suffer."
The article claimed that the EU isn't bothered by the subsidies, but rather "the rapidly growing market influence of Chinese EV companies" and "the concern that homegrown European enterprises may be unable to compete."
"Clearly, Europe is afraid," The Global Times wrote. "They are afraid of competition from China, so they want to seek trade protectionism as a protective umbrella for European auto makers who are slowly transitioning toward electrification."
China says that the EU should "have enough courage to face competition from their Chinese counterparts directly."
Recall earlier this month we detailed that the EU had launched an investigation into Chinese subsidies for electric vehicles.
By Zerohedge.com
More Top Reads From Oilprice.com: