Shares of Plug Power, a company specializing in hydrogen and fuel-cell energy, plummeted by 30% in premarket trading in New York. This steep decline followed the company's third-quarter earnings report on Thursday evening, which cited "unprecedented supply challenges in the hydrogen network in North America."
Plug Power reported third-quarter losses of $283.5 million, equivalent to 47 cents per share, widening from a loss of $170.8 million, or 30 cents per share, in the same quarter one year ago. The company's revenue increased to $199 million from $189 million a year earlier and slightly missed the Bloomberg Consensus estimate of $200.2 million.
Here's a snapshot of the quarter:
Net revenue $198.7 million, +5.3% y/y, estimate $200.2 million (Bloomberg Consensus)
Sales of fuel cell systems, related infrastructure and equipment $145.1 million, -8.1% y/y, estimate $172.6 million
Sales from services performed on fuel cell systems and related infrastructure $9.29 million, +11% y/y, estimate $10.2 million
Sales from power purchase agreements $20.1 million vs. $9.52 million y/y, estimate $14.7 million
Sales from fuel delivered to customers and related equipment $19.4 million, +56% y/y, estimate $19 million
Other revenue $4.85 million vs. $0.32 million y/y, estimate $0.56 million
Loss per share 47c vs. loss/shr 30c y/y, estimate loss/shr 30c
Gross margin -69%, estimate -15.1%
Cash and cash equivalents $110.8 million, -94% y/y, estimate $523.1 million
In a shock, Plug Power said this year's performance "has been negatively impacted by unprecedented supply challenges in the hydrogen network in North America." It blamed a "severe hydrogen shortage" that has "negatively affected direct cost of service as well as the timing for implementation of fleet upgrades into customer operated equipment." And said the negative impacts were compounded by "inflation."
"We believe this hydrogen supply challenge is a transitory issue, especially as we expect our Georgia and Tennessee facilities to produce at full capacity by year-end," it added.
While supply chain snarls are one thing for Plug Power, the company warned existing cash and available-for-securities and equity securities will not be sufficient to fund operations over the next 12 months. It added, "These conditions and events raise substantial doubt about the company's ability to continue as a going concern."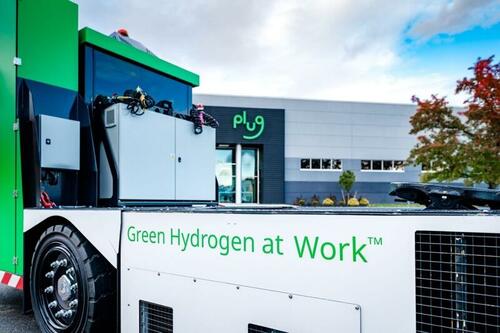 RBC Capital Markets analyst Chris Dendrinos estimates Plug Power would need more than $750 million to boost liquidity over the next 12 months.
"[Plug] management expressed confidence in executing a liquidity transaction near-term and continues to see a path for margin improvement through next year. However, at this time we think it prudent to move to the sidelines and await execution of these events," Dendrinos wrote in a note.
KeyBanc analyst Sangita Jain warned a potential $1.5 billion loan from the Department of Energy to relieve short-term liquidity concerns might need to be approved more quickly.
Besides a meltdown in the hydrogen space, we have provided readers with the understanding that President Biden's renewable space is in a full-blown crash. Inflation, high-interest rates, and waning demand have sent wind and solar stocks tumbling in recent weeks.
Perhaps it's time for the Biden administration to issue 'green' bailouts.
By Zerohedge.com