Yesterday's monthly oil market report from OPEC showed that oil production from Kazakhstan likely increased by 180,000 bpd in 2017 to 1.74 million barrels per day. Such a rise gives Kazakhstan the unenviable accolade of being the most out-of-compliance producer in the OPEC / NOPEC production cut deal - surpassing Iraq (some feat). Digging into our export flows, we see a similar story of surging.
Kazakhstan committed to cutting production by 20,000 bpd as part of the OPEC / NOPEC deal. According to our model, we should have seen a fairly commensurate drop in exports for the country to be in compliance, but instead we saw exports last year of Kazakh CPC blend and Batumi crude increase by ... (drum roll) ... just over 200,000 bpd.
Export loadings outpaced year-ago levels every month last year except January. The current year has started on the front foot; export loadings so far in January reflect ongoing strength.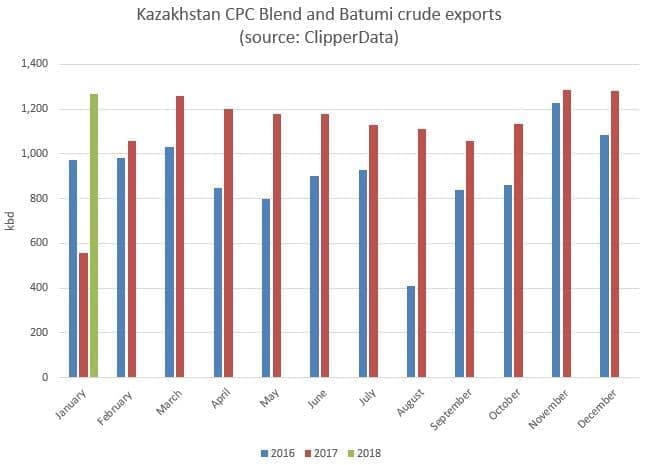 (Click to enlarge)
This export strength is a direct result of higher production, which has recently been pegged at about 130,000 bpd above the OPEC production deal cut target in recent months. This dovetails with OPEC's view that production increased 180,000 bpd last year, and our view that exports were up 200,000 bpd.
(Click to enlarge)

The ramp up in Kazakhstani crude production and exports is being driven by the Kashagan field, which, after over $50 billion of investment and sixteen years of development, finally came online in late 2016.
Kazakhstan's Energy Ministry suggest that production at the Kashagan field will rise by 33 percent in 2018. also indicating that Kashagan production could rise above 300,000 bpd this year.
The chart below from the latest monthly oil market report from OPEC highlights the expected ongoing rise in Kazakh production. Not only is Kashagan expected to grow, but the Tengiz field, another of Kazakhstan's largest oil fields, is also seeing renewed investment. As part of the Kazakh-American Future Growth project, Tengiz could see output increase by 260,000 bpd by 2022 - a 45 percent rise.
Given that the Kashagan field started production in basically the same month as the OPEC / NOPEC production cut deal was agreed, it was always unlikely that Kazakhstan would be in compliance. The last year has just proven this skepticism to be warranted.
(Click to enlarge)
By Matt Smith
More Top Reads From Oilprice.com: