Demand for natural gas is rising fast. The relative clean nature of the fuel, abundance, and geographic distribution make it a good alternative to pollutant coal and intermittent renewables. The coming of age of the LNG industry has boosted the development of a truly global market. In recent years, government policies have been the main driving force of growth: Japan switched off its nuclear power plants after the disaster at Fukushima and switched to gas while China's coal-to-gas policy is having the same effect. In the case of LNG producers, political decisions can also have a major impact. The government's policy to meet Australia's rising energy demand is creating uncertainty for international investors during a period when important decisions could be made.
Blessed Australia
The world's population is slated to reach 9.8 billion people in 2050. At the same time, standards of living are also improving leading to a massive growth in energy consumption. In order to keep pace with demand and ensure a habitable planet, the share of fossil fuels in the energy mix needs to decrease significantly. Renewables will provide the lion's share of the energy with innovative new solutions such as tidal generated electricity. Australia has the capacity to become a world leader in renewables from its current position as an important exporter of fossil fuels.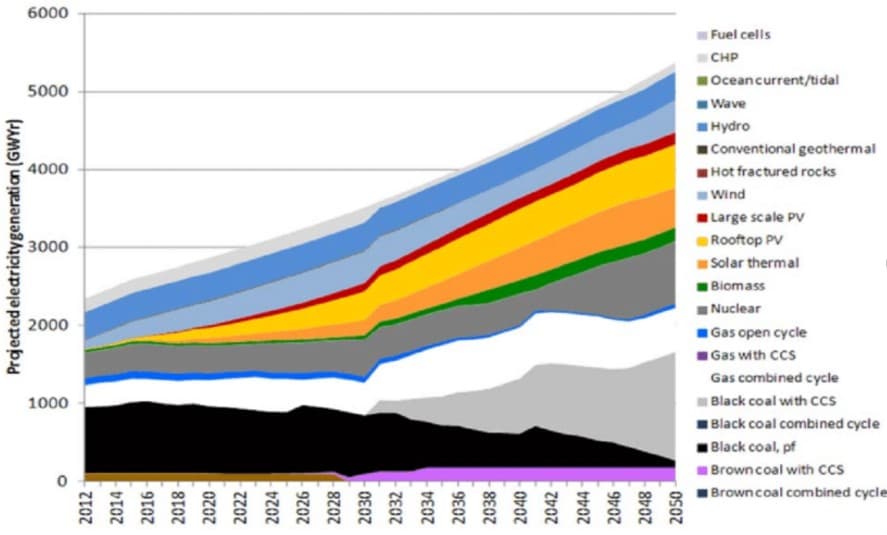 (Click to enlarge)
The country is blessed with an above average potential to generate electricity. Australia has thousands of miles of coastline, an abundance of sunshine hours, and large potential for wind energy. Despite the promise of clean energy, fossil fuels make 94 percent of Australia's electricity production.
(Click to enlarge)
There are two explanations: first, the size of the country together with a low population density create many areas that are relatively isolated. It is cheaper for these 'energy islands' to use generators that burn petroleum than connect them to the grid. Second, Australia has an abundance of fossil fuel reserves. It is the largest coal exporter in the world earning $40 billion in 2017, and the second largest
LNG exporter after Qatar.
(Click to enlarge)
Energy consumption is rising fast in the land Down Under. In order to meet demand, the government introduced the Australian Domestic Gas Security Mechanism (ADGSM) to secure energy for the domestic market over export. The mechanism hasn't been triggered yet but the industry has voluntarily diverted cargoes to supply Eastern Australia from production areas in the West.
Elections and LNG
The 2019 federal elections could mark a significant change in the investment climate of Australia as it stands to become the world's largest LNG producer this year. The Australian Labour Party intends to put in place a permanent LNG control mechanism, which would seriously damage the country's investment climate. The plan would bring Australia closer to Southeast Asian countries such as Indonesia instead of a free-market such as the U.S.
The success of Australia's LNG sector can mostly be attributed to its positive investment climate, a skilled labor force, and a favorable location regarding consumers in Asia. Rivals are either politically unstable, e.g. the Middle East, underdeveloped, e.g. Papua New Guinea, or have remote exploration areas, e.g. Mozambique.
According to Osaka Gas Chairman Yasuo Ryoki, the announcement of the ADGSM last year had an unsettling effect among investors: "we never thought that there could be any sovereign risk in Australia. It was really surprising and made us very uneasy". The coming elections don't promise anything new as foreign investors can't vote while Australian politicians are valued by this measure.
Bad timing
Demand for LNG is growing at a very high pace. Supported by government policies in Europe and Asia, energy companies are increasingly using natural gas to produce electricity. Also, the use of LNG in heavy road transportation and shipping is rising. Increased demand has created a potential for additional LNG facilities showcased by Shell's approval of the $40 billion LNG Canada project, which is the largest private sector investment ever in the North American country.
Also, trade tensions between the U.S. and China have made Australia an ideal candidate to replace American gas. However, investors value stability which Australia was able to deliver until recently. Rising political costs and uncertainty concerning the future could make investors decide to choose for alternatives. The world is not sparse with natural gas, but ideal conditions for multi-billion investment are.
By Vanand Meliksetian for Oilprice.com
More Top Reads From Oilprice.com: