At a certain point in its lifecycle, every industry faces its moment of reckoning with growing pressure to transform due to factors such as increasing competition, changing consumer preferences, government policy and other secular headwinds. The transformation usually takes the shape of improved supply chain discipline as well as streamlining business operations in order to achieve better operating margins.
For the oil and natural gas industry, the moment of truth arrived a few years ago after years of weak benchmark prices, shrinking margins and massive capital flight forced the sector to seriously rethink the way it does business with energy companies increasingly turning toward tech heavyweights for help in cutting costs and streamlining operations.
A good case in point is a partnership struck between Haliburton Co. (NYSE:HAL), Microsoft Inc. (NASDAQ:MSFT) and Accenture Plc. (NYSE:ACN) in 2020. For years, Haliburton, one of the world's largest oilfield services companies, has been plagued by shrinking margins and chronic underperformance. The company eventually made a deal with the two cloud giants to migrate its existing data centers to cloud and enhance digital offerings.
Big savings
Source: CNBC
Halliburton is hardly alone.
After years of dilly-dallying, oil and gas companies are now rapidly moving their IT infrastructure out to the Cloud as well as adopting Business Process Management (BPM) systems. This frequently results in a leaner, more agile organizational model whilst delivering significant cost savings.
Barclays estimates that the upstream market digital services industry will grow from less than $5 billion in 2020 to a more than $30 billion annual tab by 2025, thus enabling $150 billion in annual savings for oil producers. Opportunities for cost savings include cutting capital expenditures (capex) as well as selling, general and administrative (SG&A) costs and transportation operating costs.
According to Barclays, the digital age is finally dawning for the energy sector with the market poised to erupt over the next five years. Over the past few years, Microsoft has struck cloud partnerships with several Big Oil companies including ExxonMobil (NYSE:XOM), Chevron Inc. (NYSE:CVX) and Haliburton while Google's parent company Alphabet Inc. (NASDAQ:GOOG) has significantly expanded its partnership with Schlumberger Ltd. (NYSE:SLB), another oilfield services giant. Meanwhile, Amazon Inc. (NASDAQ:AMZN) offers digital services to the industry through Amazon Web Services oil and gas division, and counts BP Plc. (NYSE:BP) and Shell Plc (NYSE:SHEL) among its top clients.
In many cases, Big Oil's digital makeover is quite extensive.
For instance, Halliburton kicked off multiple digital transformation projects during the pandemic. Thailand's PTT Exploration and Production and Kuwait Oil Company were among the notable oil and gas companies that were awarded Halliburton contracts to implement digital transformation and enhance efficiency and production at their oilfields.
For years, Big Oil has been using tech companies' enterprise software in their highly complex operating systems--including rig management operations and precise drilling techniques. However, they have traditionally been somewhat reluctant to hand over their treasure troves of valuable data mainly on cyber security concerns as well as the need to maintain competitive advantages, preferring instead to develop most of their software developed in-house or by companies within the oilfield services sector such as Haliburton.
However, this is now changing as they look for ways to improve operational efficiencies in a bid to squeeze higher cash flows and profits from their existing operations.
Is the new approach working? The evidence seems to suggest so, with shale drilling costs on an encouraging downtrend. J.P. Morgan estimates that Permian's Delaware Basin oil drillers now require oil prices of just ~$33/bbl to break even down from $40/bbl in 2019.
Artificial Intelligence (AI)
Let's face it: Our electric grids are simply ill-suited for the energy shift. After all, renewable power is highly intermittent by nature whereas our grids are designed for near-constant power input/output. Indeed, wind and solar energy have the lowest capacity factors of any energy source.
For the energy transition to be successful, our power grids have to become a lot smarter. Luckily, there's an encouraging precedent.
Five years ago, Google announced that it had reached 100% renewable energy for its global operations including its data centers and offices. Today, Google is the largest corporate buyer of renewable power, with commitments totalling 2.6 gigawatts (2,600 megawatts) of wind and solar energy.
In 2017, Google teamed up with IBM to search for a solution to the highly intermittent nature of wind power. Using IBM's DeepMind AI platform, Google deployed ML algorithms to 700 megawatts of wind power capacity in the central United States--enough to power a medium-sized city.
IBM says that by using a neural network trained on widely available weather forecasts and historical turbine data, DeepMind is now able to predict wind power output 36 hours ahead of actual generation. Consequently, this has boosted the value of Google's wind energy by roughly 20 percent.
A similar model can be used by other wind farm operators to make smarter, faster and more data-driven optimizations of their power output to better meet customer demand.
IBM's DeepMind uses trained neural networks to predict wind power output 36 hours ahead of actual generation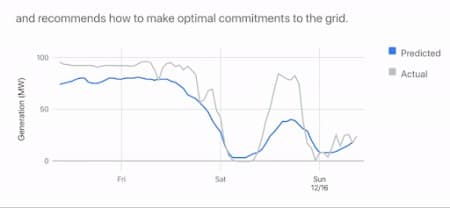 Source: DeepMind
Houston, Texas-based Innowatts, is a startup that has developed an automated toolkit for energy monitoring and management. The company's eUtility platform ingests data from more than 34 million smart energy meters across 21 million customers including major U.S. utility companies such as Arizona Public Service Electric, Portland General Electric, Avangrid, Gexa Energy, WGL, and Mega Energy. Innowatts says its machine learning algorithms are able to analyze the data to forecast several critical data points including short- and long-term loads, variances, weather sensitivity, and more. Innowatts estimates that without its machine learning models, utilities would have seen inaccuracies of 20% or more on their projections at the peak of the crisis thus placing enormous strain on their operations and ultimately driving up costs for end-users.
Further, AI and digital solutions can be employed to make our grids safer.Three years ago, California's biggest utility, Pacific Gas & Electric, found itself in deep trouble after being found culpable for the tragic 2018 wildfire accident that left 84 people dead and, consequently, was slapped with hefty penalties of $13.5 billion as compensation to people who lost homes and businesses and another $2 billion fine by the California Public Utilities Commission for negligence. Perhaps the loss of lives and livelihood could have been averted if PG&E had invested in some AI-powered early detection system like Innowats.By employing digital and AI models, our power grids will become increasingly smarter and more reliable and make the shift to renewable energy smoother.
Blockchain
Despite its enormous potential to transform the global energy sector, blockchain technology has largely remained confined to the financial sector with the energy industry consistently catalyzed by innovations in sub-sectors such as rooftop solar, offshore wind, smart metering, battery storage, and electric vehicles.
But this is now beginning to change thanks to the Enterprise Ethereum blockchain emerging as the newest technology to spur growth in the energy sector across a raft of verticals from peer-to-peer (P2P) energy trading and smart contracts to green energy provenance and systems interoperability.
Indeed, a Global Blockchain in Energy Market research document says blockchain technology in the energy industry is about to record explosive growth over the next five years with blockchain energy startups such as Power Ledger, WePower, UAB, and LO3 Energy set to open up new possibilities for the energy industry, ranging from cost-savings for the consumer by eliminating third parties in energy deals and faster transaction settlements, all the way to the emergence of a new market for peer-to-peer and excess renewable energy trading.
By Alex Kimani for Oilprice.com
More Top Reads From Oilprice.com: