Back at the start of December, we discussed how Venezuelan crude deliveries to the U.S. were sliding, and particularly to Citgo refineries. December ended up being the lowest level of Venezuelan grades to the U.S. on our records, as total Venezuelan crude exports dropped under 1.1 million barrels per day.
Both total Venezuelan exports and flows to the U.S. have rebounded in January, but flows to the U.S. are still below the first eleven months of last year. Certain refiners, such as PBF, are still shirking Venezuelan crude amid quality concerns, with no deliveries to PBF's Chalmette refinery in January for the first month since at least 2012.
On the flip side, Valero refineries - and specifically Port Arthur and St Charles - accounted for 40 percent of Venezuelan deliveries to the U.S. last month, after averaging less than 30 percent in 2017, while deliveries to Citgo refineries clambered back above the 100,000 bpd mark for the first month in three amid a seeming lack of appetite for Venezuela's crude.
(Click to enlarge)

Another refinery has been increasing its imports of Venezuelan crude: Motiva's Port Arthur, the largest refinery in the U.S. It has received deliveries of medium sweet Zuata 20 in each of the last two months, after a five-month absence of Venezuelan crude.
We discussed last year how the Port Arthur refinery had - somewhat ironically - been pulling in increasing volumes of Iraqi crude, as Saudi Arabia made a conscious effort to cut flows to the U.S. After four consecutive months of lower Saudi deliveries, we saw a rebound in October, while Iraqi deliveries retraced.
Strength in Saudi deliveries into the end of the year meant that flows from the kingdom accounted for ~70 percent of imports to the refinery last year, in keeping with previous years.
Also, for the first time since February 2017, there has been a monthly absence in Iraqi arrivals to the Motiva refinery in January. Exports to the refinery should drop off considerably this month, as it undergoes scheduled maintenance for a month.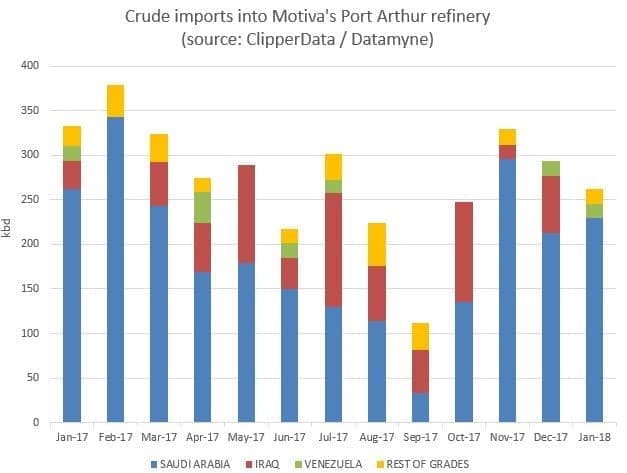 (Click to enlarge)

The recovery seen in Saudi flows to Motiva in recent months is reflective of a modest rebound in total Saudi crude to U.S. shores. After dropping below Iraqi deliveries in October (for the first month since 1985), imports are higher once again. That said, flows remain considerably closer than they were this time last year, when Saudi arrivals were more than double the volume:
(Click to enlarge)

By Matt Smith
More Top Reads From Oilprice.com: