Wowee, 1985 showed a rich vein of form for movies. It was the year that spawned The Goonies, The Breakfast Club, Spies Like Us, Fletch and Back to the Future. It is Michael J Fox's breakthrough movie as Marty McFly which is particularly appropriate this month, given an event that is unfolding in the oil market which has not occurred in the last 32 years.
EIA monthly import data goes back to the beginning of 1973 (when Carly Simon was at number one with 'You're So Vain'). Over the last forty-four years, Iraqi crude imports to the U.S. have only outpaced Saudi Arabian volumes on one occasion. And that was over a five-month period in... yep...1985.
Ironically, just as Tears For Fears were just about to settle themselves into the number one spot on the Billboard 100 with 'Everybody Wants to Rule the World', Iraqi flows into the U.S. surpassed those of Saudi Arabia in May of 1985. They maintained the upper hand for five consecutive months, before relinquishing supremacy back to Saudi Arabia. The kingdom has delivered more crude to the U.S. over the last +500 months. That is, until now.
(Click to enlarge)
The reason that Iraqi flows to the U.S. were able to surpass those of Saudi Arabia in 1985 is twofold: Saudi Arabia dramatically slashed its production in the early 1980s, lowering its oil output from 10 million barrels per day in 1981 to around 3.5 million bpd in 1985, as demand for its crude dried up and it took steps to support prices. At the same time, Iraq was ramping up its output, oblivious to OPEC's efforts to cut production (sounds strangely familiar...).
But come September 1985 (when Dire Straits were #1 with 'Money For Nothing'), Saudi Arabia finally got fed up of carrying the burden of OPEC production cuts while other members of the cartel continued to produce with reckless abandon (still sounds strangely familiar).
This marked a sea change in Saudi's strategy, and they subsequently ramped up production. Although Iraq's exports to the U.S. continued to rise through the rest of the decade, they abruptly dropped to zero with the onset of the Gulf War in 1990, and have remained adrift of Saudi volumes for the past few decades.
Thirty-two years on from Doc Brown and his time-traveling DeLorean, and thirty-two years on since Iraqi flows to the U.S. surpassed those from Saudi, we are about to take a trip back to the future. Again, the issue is twofold: Saudi crude flows to the U.S. have been dropping considerably in recent months (discussed on CNBC this week here), as Saudi has made a conscious effort to reduce flows to the largest and most transparent global market - as it aims to get the most bang for its buck from cutting exports.
At the same time, crude flows from the southern Iraqi port of Basra have shown little (well, no) impact from the OPEC production cut deal, with export volumes continuing to flow as usual. As Saudi deliveries drop, and as the U.S. leans increasingly on Iraqi barrels - ironically, to likely replace lower Saudi flows - Iraqi barrels are gaining the ascendancy once again.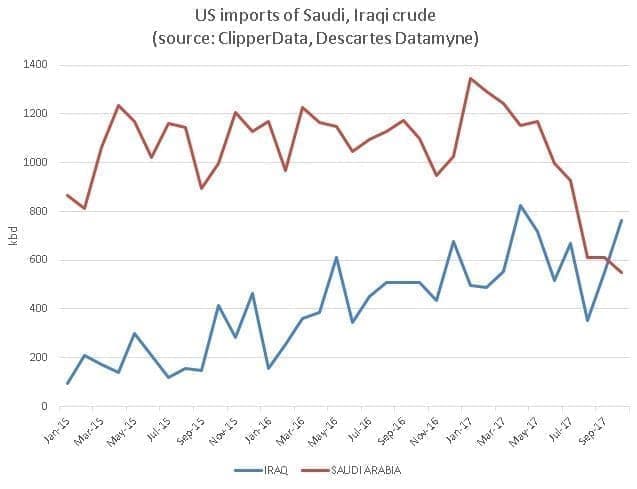 (Click to enlarge)
By Matt Smith
More Top Reads From Oilprice.com: