During the Cold War, China and the Soviet Union regarded one another as strategic adversaries. Relations between Beijing and Moscow, however, have significantly improved over the years. Besides political alignment, the countries have complementary economies; China has an insatiable appetite for the raw materials which Russia has in abundance and Beijing has the financial strength to protect Moscow against the sanctions related to its annexation of Crimea.
Bilateral trade, as a consequence, has increased dramatically over the years. At the end of 2017, it stood at $80 billion, an increase of 30 percent year-on-year, with an aim to reach $200 billion by 2024. Much of this growth will need to come from energy trade, of which natural gas will likely make up a large part. An example of this natural gas growth is the Power of Siberia pipeline – which is currently nearing completion - and the Altay pipeline project which looks set to follow.
China's booming demand for energy
The transformation of rural China a couple of decades ago into a global economic powerhouse has been admired across the globe. Even during the financial crisis of 2008, China served as a stabilizing force amid the turmoil. The Asian country's expanding economy requires ever-larger volumes of energy to power homes and factories. Beijing's adoption of more stringent rules to counter air pollution has created an energy revolution due to the coal-to-gas switch. This has had serious consequences for the global gas market.
Until recently, the LNG market was facing an oversupply. Growing demand in China due to its new rules on air pollution has absorbed much of the glut. According to analysts from Sanford C. Bernstein & Co., new supplies of LNG are "being easily mopped up by rampant market growth". Political developments, however, have somewhat shifted Beijing's focus from LNG to more pipeline gas from Russia. This has come at the right moment for Moscow as relations with its biggest customer, the EU, have deteriorated.
(Click to enlarge)
Russia's pivot to the East
Relations between Russia and the West are at their lowest point since the Cold War due to the crisis in Ukraine and the annexation of Crimea in 2014. Despite the EU's reliance on Russian gas, which is a third of its annual consumption, Moscow's dependence on European gas demand is much more severe, with the bulk of its gas exports heading West. This overdependence caused Russia to speed up negotiations on a gas pipeline to China and its 'pivot to the east' after relations with the West deteriorated.
The result of this pivot was the $400 billion deal concerning the Power of Siberia pipeline. Despite Moscow's claims, it can hardly be called a game changer as the capacity, 38 bcm annually, is just a fraction of Russia's gas export to Europe, almost 200 bcm in 2017. However, negotiations have been ongoing for years on a second pipeline via the western route or the Altay pipeline.
Moscow would prefer to provide both Europe and China with natural gas from production areas in Western Siberia due to its lower costs because of partially existing infrastructure. China originally opposed this option as gas is needed in its more densely populated northeast and domestic production already provides for the local needs in the northwest.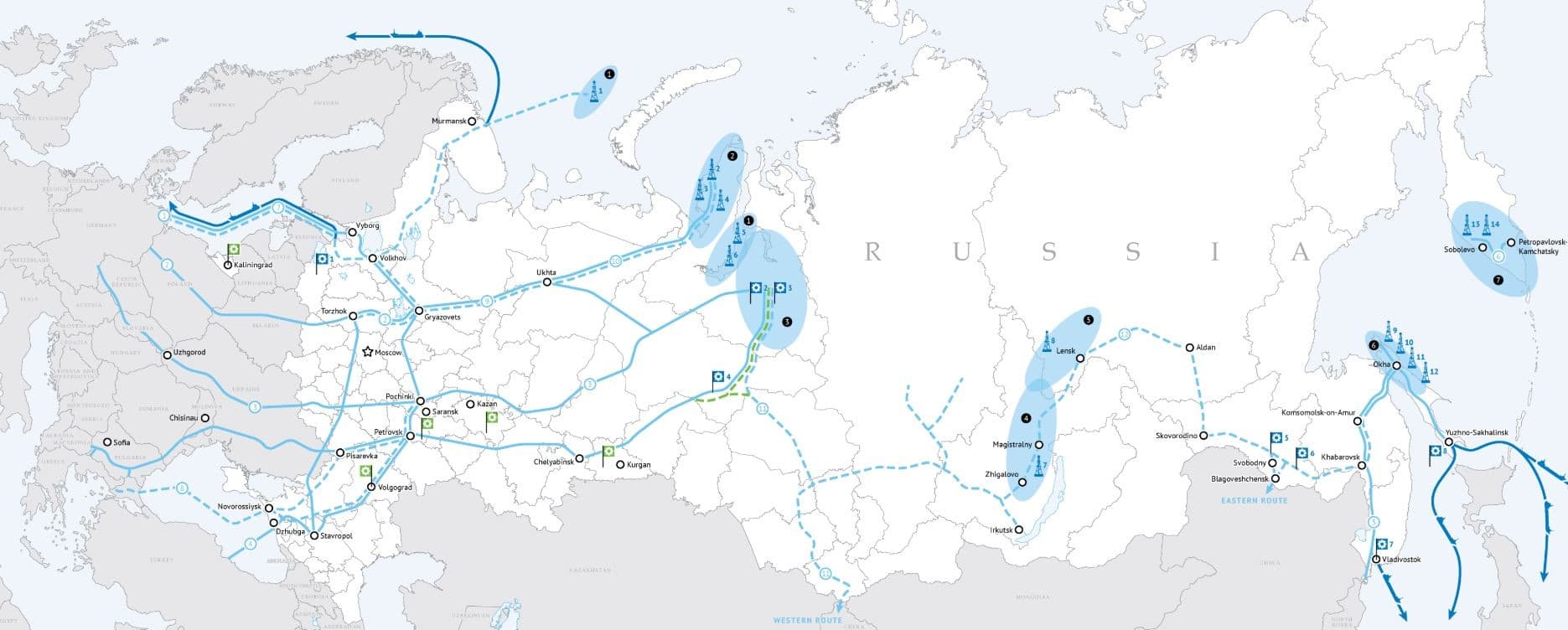 (Click to enlarge)
Geopolitical tensions and domestic policies
The trade war between the U.S. and China has led to a strategic recalculation. Beijing's approach to Trump has gone through three phases: first, a state visit was organized full of ceremonial displays of respect in an effort to appease the U.S. president. Trump's increasing bellicose language showed that it hadn't worked, which led to a period of strategic patients. The escalating trade war, however, has made Beijing reconsider its passive strategy and growing energy relations with the U.S.
(Click to enlarge)
China's clean air policy has strongly increased demand for natural gas in the Asian country as an alternative to coal. LNG has been an important tool to satisfy demand in the short term.
Related: The Middle East Nuclear Race Is Reaching A Boiling Point
One of the benefits of LNG in contrast to pipelines is its flexibility. However, higher prices can cause a shift in the global market as ships tend to go where profits are the biggest – which has generally been in Asian countries.
Changing sentiment on Altay
Until recently, negotiations between Russia and China on a second pipeline concerned a direct connection between the countries through the Altay region. However, during the Eastern Economic Forum in Vladivostok in September 2018, the Presidents of Russia, China, and Mongolia hinted at an alternative route through Mongolia.
This makes sense in two ways. First, constructing a giant pipeline through the steps of Mongolia is much cheaper and easier to achieve than through the pristine Altay region which is designated as a world heritage site by UNESCO at an elevation of 2,650 meters or 8,690 feet. Second, gas would be delivered to densely populated areas in the east instead of the west, which Beijing would prefer. Moscow is happy with both scenarios as long as gas is exported from fields in Western Siberia which also serve Europe.
Changing geopolitics have positively influenced political support for a second gas pipeline. Warming relations between China and Russia and cooling relations between China and the U.S. have increased the necessity for a stable source of energy. Also, predictions of Chinese gas consumption have been adjusted upwardly which has strengthened the need for Russian gas.
By Vanand Meliksetian for Oilprice.com
More Top Reads From Oilprice.com: