Bearish factors have driven down natural gas futures by 61% since last August. Some factors include the delayed restart of the Freeport LNG export facility and a mild winter.
Last week, NatGas for February delivery hit an 18-month low of around $3.57/MMBtu and even lower to $3.47/MMBtu on Wednesday. Prices are clawing back some of the losses on Thursday, with Natgas prices up 4% to $3.81.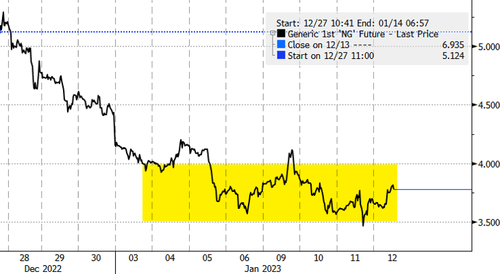 One bit of good news that crossed the wires yesterday evening was the damaged Freeport plant on the Texas gulf coast "has likely drawn power from the grid for the first time since it was shut after an explosion in June," according to a Bloomberg report.
Alex Bennitt, manager of fundamental analysis of Live Power at Yes Energy LLC., said the NatGas export terminal increased power flows on Wednesday between 1100 and 1250 ET.
"The load was still well below the levels seen before the terminal's shutdown," he said.
Power flows to Freeport LNG are promising and might indicate a return to operational status is progressing. The export facility, responsible for 20% of US LNG exports, has been delayed at least four times for a partial restart. It has suffered a seven-month-long outage following an explosion last June.
The new timeline Reuters has provided for a partial restart is in the second half of February.
"There has been no official messaging, but nobody expects any cargoes until end-February at the earliest," a source said.

On Wednesday, Freeport LNG denied the Reuters report attributed to unnamed sources, with a spokesperson telling Oilprice.com that "There is no change to our restart timeline. We are still targeting the second half of this month for the safe, initial restart of our liquefaction facility, pending regulatory approvals".
Besides Freeport developments, weather forecasts are turning colder, and heating demand is expected to rise in the coming weeks across the Lower 48.
Is winter returning?
#GEFS 1/12-18 #natgas cuz one week is about all you can really rely on #PolarVortex #wxtwitter pic.twitter.com/XIx5cxJ3hw

— Gas Vegas (@GasVegasBaby) January 12, 2023
And there's also overdue profit-taking by shorts as the February NatGas contract is rebounding. Prices tagged the 76.4% Fib retracement level and slightly bounced after hitting the lowest levels since July 2021.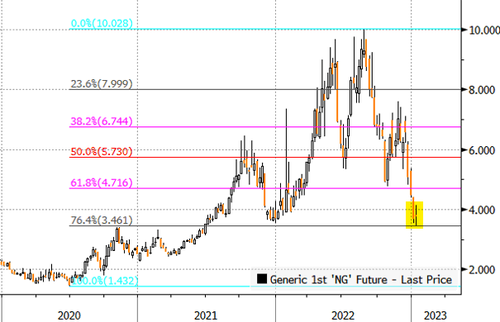 So the possibility of a Freeport restart inching closer and colder weather could be what NatGas needs to increase bullish speculators after months of declines.
By Zerohedge.com
More Top Reads From Oilprice.com: