Rising global inventories are weighing on crude prices, pushing oil to one-year lows.
(Click to enlarge)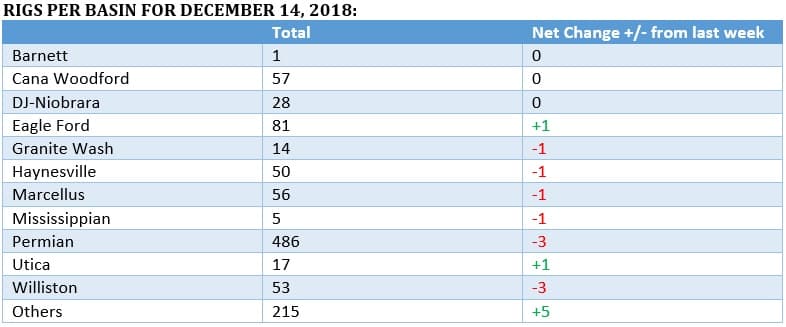 (Click to enlarge)
(Click to enlarge)
(Click to enlarge)
- Regulations from the International Maritime Organization (IMO) are set to take effect in January 2020, lowering the allowed limit of sulfur emissions from maritime fuels.
- Sulfur concentration will drop from 3.5 percent on the open seas to just 0.5 percent.
- These regulations will affect 3.9 million barrels per day of maritime fuels. The regulations will increase the demand for low-sulfur distillates at a time when demand is already high.
Market Movers
• Crestwood Equity Partners (NYSE: CEQP) was upgraded to Buy from Neutral by Goldman Sachs, with a $43 per share price target. That came as EQT Midstream Partners (NYSE: EQM) was downgraded to Neutral from Buy.
• BP (NYSE: BP) signed an agreement with Angola's Sonangol for the development of its offshore Platina field, a step that pushes the British oil giant closer to a final investment decision.
• Royal Dutch Shell (NYSE: RDS.A) is in talks to purchase Endeavor Energy Resources for $8 billion, or about half as much as Endeavor had hoped to sell for earlier this year, according to Bloomberg.
Tuesday, December 18, 2018
Oil prices crash to a one-year low. Oil prices plunged by more than 4 percent on Monday, and the selloff continued in early trading on Tuesday, pushing WTI down below $48 per barrel. The proximate cause this time was a report of rising U.S. oil inventories at a time when global equities were sharply down. "A large part of the move (lower) is due to a broader market sell-off, with both U.S. and Asian equity markets coming under pressure," Warren Patterson of ING, told Reuters. "Specifically for the oil market, there are no clear signs yet of the market tightening," he added.
Stock market turmoil. U.S. equities fell sharply on Monday, and the selloff continued in Asia on Tuesday. Concerns about slowing growth in China and elsewhere are starting to magnify investor anxiety. Chinese President Xi Jingping gave a speech Tuesday, declining to offer new stimulus measures or proposals to ratchet down trade tensions with Washington. Asian markets fell after the address.
ConocoPhillips backs carbon tax. ConocoPhillips (NYSE: COP) will reportedly join ExxonMobil (NYSE: XOM) in putting money into a lobbying effort backing a carbon tax. The oil majors have huge stakes in natural gas, which stands to benefit from a light carbon tax.
Qatar to invest $20 billion in U.S. energy. Qatar said on Sunday that it would spend $20 billion on U.S. energy assets over the next five years. One of the initiatives will be to revive the Golden Pass LNG terminal in Texas. The investment would also presumably yield political benefits – Qatar has been the target of an economic blockade by Saudi Arabia, a move that received tacit backing by some in the Trump administration. Qatar's investment plans for the U.S. could create new American ties. Meanwhile, Qatar also plans on buying three offshore oil blocks in Mexico from Eni (NYSE: E).
New discoveries up in 2018. The oil and gas industry is expected to log the largest set of new discoveries this year since 2015. Discovered resources stand at about 8.8 billion barrels of oil equivalent, and could close out the year at about 9.4 billion boe, according to Rystad Energy. "We at Rystad expect this discovery trend to continue into 2019 with many promising high-impact wells targeting vast potential," Palzor Shenga, senior analyst on Rystad Energy's Upstream team, said in a statement.
New oil and gas projects jump in 2019. The number of new oil and gas projects to move forward next year could jump five-fold from 2015 levels, according to a report from Wood Mackenzie. At the same time, industry spending could remain mostly flat at $425 billion, down sharply from the $770 billion in global spending back in 2014. Many oil and gas companies have cut costs and can do more with less. But WoodMac says that the industry is still far short of the $600 billion in spending needed to meet future demand.
Oilfield services look to rebound. Offshore oilfield services and contractors have seen four consecutive years of declining revenues, but could bounce back in 2019. More than 100 projects could move forward in 2019, and an estimated $210 billion could be spent on offshore oilfield services next year, according to Rystad Energy. "The offshore service market is like a super tanker: It takes time to accelerate. The uptick in new projects in 2017, 2018 and now 2019 will be enough to turn revenue growth positive to mid-single digits as offshore capex is set to increase due to the recent years of capital commitments," Audun Martinsen, head of oilfield service research at Rystad Energy, said in a statement.
Successful offshore wind bidding. The U.S. government held a highly successful bidding round for offshore wind projects off the coast of Massachusetts last week. The winning leases could support 4.1 gigawatts of wind, and the auction took in $405 million in winning bids. The winners were Equinor Wind US; Mayflower Wind Energy, LLC, a 50-50 joint venture between Shell and EDP Renewables; and Vineyard Wind, LLC, a 50-50 joint venture between Copenhagen Infrastructure Partners and Avangrid Renewables, according to Greentech Media.
Pennsylvania to curb emissions from oil and gas. Pennsylvania's governor unveiled proposed regulations to cut smog-forming pollutants and force companies to plug methane leaks. The proposal comes as the federal EPA has sought to roll back emissions regulations.
Related: Morgan Stanley Slashes Oil Price Forecast For 2019
Mexico hopes to boost oil and gas production by 50 percent. Mexico's government aims to boost oil and gas output by 50 percent over the next six years. The new government wants to revive Pemex and has planned to increase the state-owned oil company's exploration budget by 10 percent. "It's a new Pemex rescue," President Lopez Obrador said.
California mandates electric buses. California regulators passed a rule that will require public transit agencies to phase out gas and diesel-powered transit buses. By 2029, agencies will only be allowed to purchase zero-emissions buses, with the phase-out completed by 2040. There will be interim targets as well, so electric buses could begin rolling out across California in the near future.
ExxonMobil becomes top Permian driller. ExxonMobil (NYSE: XOM) was late to the game but now has the most drilling rigs in the Permian basin. The development highlights the lure of the Permian as well as the shale-focused strategies deployed by the oil majors.
Enbridge completes takeover of Spectra Energy Partners. Enbridge (NYSE: ENB) completed its $3.3 billion acquisition of Spectra Energy Partners, creating one of the largest midstream companies in North America.
European Union agreed to cut carbon emissions from cars. The EU agreed to a goal of cutting carbon emissions from cars by 37.5 percent within a decade, with an interim target of 15 percent by 2025. Germany's auto manufacturers opposed strict requirements and warned that the new goals do little to provide incentives for the switch to electric cars.
By Tom Kool for Oilprice.com
More Top Reads From Oilprice.com: