Oil prices have continued to fall at the start of this week, as Trump restarts the trade war with China and markets worry that OPEC will increase production.
(Click to enlarge)
(Click to enlarge)
(Click to enlarge)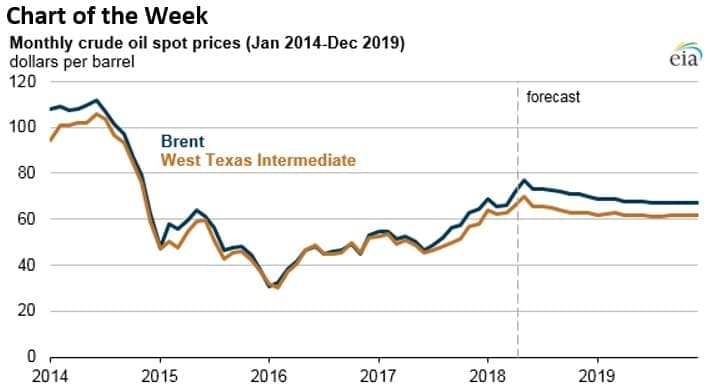 (Click to enlarge)
- The EIA forecasts Brent oil prices to average $71 per barrel in 2018 and $68 per barrel in 2019. That is a $2-per-barrel increase from the previous forecast.
- But the agency says prices will decline in the second half of this year, because soaring U.S. shale production will result in supply outpacing demand.
- The EIA sees supply growing by 2 mb/d in 2019 vs. demand growth of just 1.7 mb/d.
Market Movers
• EQT Midstream (NYSE: EQM) received the go-ahead to resume construction on the Mountain Valley Pipeline, a key conduit for Marcellus Shale gas to the U.S. South.
• Oil tanker stocks received an upgrade from Wells Fargo. The bank argued the coming increase in oil production from OPEC will expand cargoes and lower prices, to the benefit of tanker stocks. Wells Fargo upgraded DHT Holdings (NYSE: DHT), Frontline (NYSE: FRO) and Teekay Tankers (NYSE: TNK) to Outperform from Market Perform.
• Equinor (NYSE: EQNR) awarded $3.68 billion in drilling and service deals to Baker Hughes GE (NYSE: BHGE), Halliburton (NYSE: HAL) and Schlumberger (NYSE: SLB).
Tuesday June 19, 2018
Markets fell on Tuesday after President Trump threatened China with another $200 billion in tariffs unless they make concessions on trade. Meanwhile, the latest on the OPEC front is that Russia and Saudi Arabia are pushing for aggressive production increases despite opposition from Venezuela, Iran and Iraq. "Oil demand usually grows at the steepest pace in the third quarter...We could face a deficit if we don't take measures," Russian Energy Minister Alexander Novak told reporters. "In our view, this could lead to market overheating." Oil prices sank in early trading on Tuesday.
Emerging Saudi-Russian bilateral deal. Saudi oil minister Khalid al-Falih said last week that Saudi Arabia and Russia could reach a "comprehensive bilateral agreement" on energy cooperation, which indicates a willingness for the two top producers in the OPEC+ group to go it alone should a deal fall apart at the upcoming OPEC meeting. The opposition from many OPEC members to any increase in output likely means that any production increase will have to come from Saudi Arabia and Russia.
Hedge funds turn bullish on oil. Hedge funds and other money managers spent the past two months trimming their bullish bets on oil, but last week stepped up their net-long positions. The shift could mark a turning point, a recognition that the selloff in oil has gone far enough. Or, it could be that investors are positioning themselves for a less-than-spectacular increase in output from the OPEC+ meeting, the result of which would push oil prices higher. "Clearly, the increase in Brent positions didn't come at the right time," Kyle Cooper, a consultant at ION Energy, told Bloomberg. "People saw the big drop in prices and thought, wait a second, we're oversold now and due for a bounce. If Saudi Arabia and OPEC don't just open up their spigots, the market still looks kind of tight."
Libyan oil storage tankers destroyed. Libya's National Oil Corp. said on Monday that two oil storage tanks at its Ras Lanuf port were destroyed by armed militias, resulting in the loss of 400,000 barrels of storage. The country has lost some 400,000 bpd of production in recent days, a major outage that the oil markets are so far ignoring, perhaps because traders hope the outage will be temporary.
EPA declines to require more biofuels in blending. The EPA shot down requests from the corn and ethanol industries to require more biofuels to be blended into the U.S. fuel mix after the agency granted a series of waivers to refiners, allowing them to get out of biofuels requirements. The waivers have undermined the market for ethanol credits and have angered corn states and powerful Republicans in the Midwest. The EPA declined to grant the request, leaving the ethanol industry furious.
OPEC sees strong demand in second half of 2018. An OPEC technical panel said that it sees oil demand remaining robust in the second half of the year. The conclusion provides further justification for an increase in production. "If OPEC and its allies continue to produce at May levels then the market could be in deficit for the next six months," an OPEC source told Reuters.
Exxon to build LNG import terminal in Australia. In a bit of irony, ExxonMobil (NYSE: XOM) said it would build an LNG import terminal on the east coast of Australia to help plug a natural gas deficit. The supply gap is largely the result of elevated exports of gas after a handful of enormous LNG export terminals came online in recent years.
Energy XXI Gulf Coast sold for $322 million. A private equity firm purchased Energy XXI Gulf Coast (NASDAQ: EGC) for $322 million, a company that emerged from bankruptcy more than a year ago but still struggled to get back on its feet.
Related: Permian Discount Could Rise To $20 Per Barrel
U.S. Congress mulls "NOPEC Act." High gasoline prices have raised the ire of U.S. politicians, and the Congress is now considering the "No Oil Producing and Exporting Cartels Act," which would make OPEC subject to Sherman antitrust law, meaning the U.S. government could sue OPEC for manipulating the oil market. The bill has been around in some form for more than a decade, but previous presidents have opposed it. President Trump has voiced support for the measure in the past, and because of his unpredictable nature, analysts say the odds of it becoming law, while still low, have never been better. Of course, if OPEC announces a production increase in a few days, it could take the steam out of the legislative effort.
U.S. pipeline industry wants relief from steel tariffs. The U.S. midstream sector wants exemptions from tariffs on imported steel. Roughly three quarters of the specialty steel used to build pipelines comes from abroad. Plains All American Pipeline (NYSE: PAA), Hess Corp (NYSE: HES) and Kinder Morgan Inc. (NYSE: KMI) are just a few of the companies seeking exemptions from the import duties. Reuters says there are more than 500 petitions for exemptions that involve pipes or related materials. The initial decisions on exemptions are expected this month.
By Tom Kool for Oilprice.com
More Top Reads From Oilprice.com: