As crude begins to recover after its worst decline in two years, it seems like a decisive moment to cash in on the decline of the global oil inventory precipitated by OPEC's supply-cut pact. In fact, that is the picture of U.S. shale output as its sharp rise brings total U.S. oil production close to parity with Saudi Arabia and Russia, and puts the U.S. on track to becoming a net energy exporter in 2022.
This forecast, while dismissed by OPEC Secretary General Mohammed Barkindo as "[of] no concern", must surely have OPEC members and their pact supporters concerned, not least of whom those involuntarily affected, such as Gazprom, Rosneft and Lukoil.
Putin's influence and leverage in home-grown affairs may be in little doubt, but how much longer can the world's newest energy czar placate these privately owned energy companies, especially in the face of surging oil prices? And placate and cajole he surely must, not having the luxury of control that Saudi Arabia, for example, has over its state-run concerns. Putin may have finessed himself into a position of calling all the shots as far as policy is concerned, but how long will the likes of Gazprom et al resist the double-edged snare of capitalization of rising profits and protection of its market hegemony?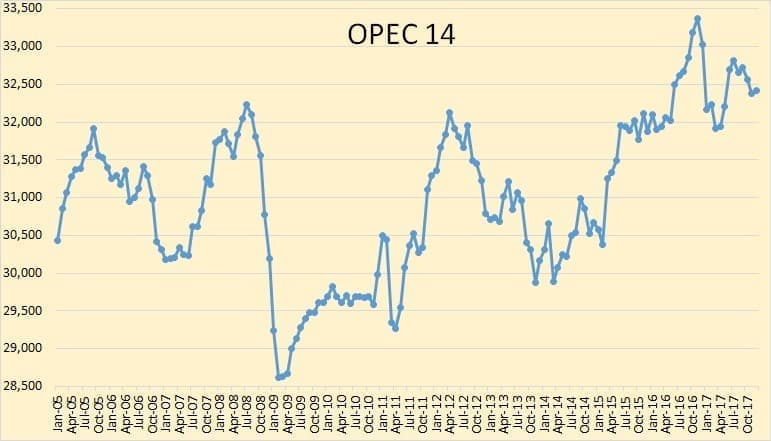 (Click to enlarge)
Image source: Peakoilbarrel.com
What could be an uneasy alliance between OPEC and its allies appears to be paying off. OPEC has maintained crude output below the 32.5 million bpd mark and its latest report suggests that its production fell by 8,000 barrels per day in January of this year, with compliance rising to 137 percent, according to Reuters. But how much of this cutback is a result of cooperation?
While Saudi Arabia is leading OPEC nations by example, much of the fall in production can be attributed to Venezuela, which is more to do with instability than to careful management. Indeed, Manuel Quevedo, Venezuela's minister of petroleum and energy and president of state oil firm PDVSA claims production is on the rise, the IEA reports a much bleaker picture.
OPEC's plan may be paying off, with targets being met, and oil prices on the rise. But who benefits in the long term? The IEA's report points toward U.S. shale oil as the main beneficiary, as it pumps its way to market dominance, but some cast doubt on its long term viability, while the current president of OPEC, UAE Energy Minister Suhail Al Mazroui is unconcerned by the threat to OPEC's plans. If, however, the IEA is right about U.S. shale oil, and it can meet the rising global demand of crude, we may at the very least see a slowing of oil prices.
In fact, hedge funds are making their position known, as a sudden rise in the volatility of the oil market (surging to its highest since August of last year), has led to a large scaling back of bets on West Texas Intermediate crude prices. It seems clear that their position is that U.S. shale oil production can indeed interfere with OPEC's plans, which begs the question of how long private energy companies like those in Russia can sit back and watch their bottom lines drop.
Putin has given OPEC his word that Russia won't flood the market with oil, but it remains to be seen whether he can keep the Russian energy companies and their shareholders at bay for the duration of the deal. Even as plans were to cease the drop in production at the end of March of this year, Gazprom Neft's deputy chief executive, Vadim Yakovlev, made his feelings clear of his unease with the deal. His statement that the company planned to increase production in 2018, along with his confidence that the deal would be short term is at odds with the narrative woven by Putin, and it's not a stretch to assume that his peers have similar misgivings.
The coming months will demonstrate whether Putin can exert as much control domestically as he appears to with OPEC.
By Gary Norman for Oilprice.com
More Top Reads From Oilprice.com: