Spot rates for shipping containers have been rising for four weeks. The latest data from the Drewry World Container Index composite shows the most significant weekly gain in the index in more than two years. The 23-month slump in ocean-freight costs appears to be ending.
The Drewry World Container Index jumped 11.79% to $1,761 for a 40-foot container, the largest weekly gain since June 24, 2021 -- or the period when shipping costs worldwide were sky-high because of snarled supply chains.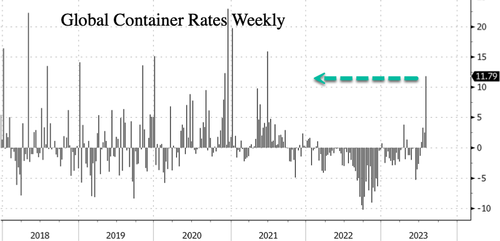 All major shipping lines have experienced a multi-year decline.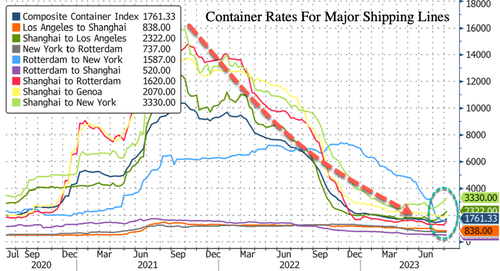 Some of the largest gains in the last four weeks have been on the Shanghai to Los Angeles and Shanghai to New York routes.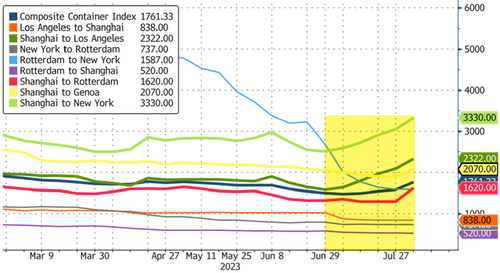 Senior editor Greg Miller of logistics firm FreightWaves wrote a note last week explaining:
Spot rates have been on the rise for three straight weeks, rebounding to levels last seen in early 2023 and late 2022, according to several index providers. U.S. import bookings remain above pre-COVID levels, and multiple analysts are now highlighting positive rate effects from reduced vessel capacity.
While managing vessel capacity appears to be working, French shipper CMA CGM SA warned East-West trade lanes are under more pressure and dropping faster than the North-South trade, which remains pretty dynamic."
In early May, A.P. Moller-Maersk A/S, a bellwether for global trade, expected weaker results for the rest of 2023 after a slump in the first quarter. Maersk is slated to report on Friday.
Goldman updated clients on its Supply Chain Congestion Scale registers a "2," which means the weekly bottleneck metrics for global supply chains appear to have normalized after the snarls during Covid.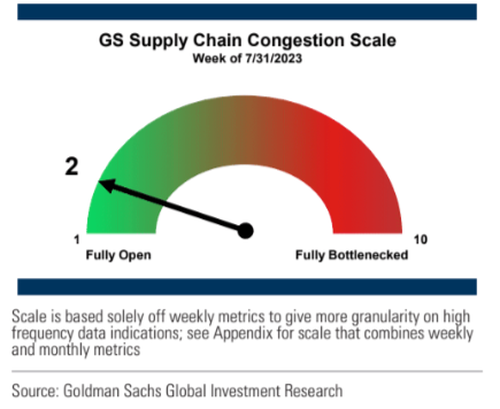 Economists and analysts have been optimistic in recent weeks that the Federal Reserve can engineer a soft landing and avoid a recession (remember, there's stealth QE).
"We believe the Fed is on track for a soft landing ... and the data this week has been consistently good. It adds to my conviction," Jan Hatzius, chief economist at Goldman Sachs, recently said.

In the world's second-largest economy, signs of slowing growth and weakness in China persists. Perhaps the surge in container rates is more or less a function of reduced capacity instead of a rise in demand.

By Zerohedge.com