The Defense Logistics Agency Energy, on behalf of the US Air Force, is serious about decarbonizing a military base in Alaska. Surprisingly, the focus is on something other than solar or wind but on mini-nuclear reactors.
According to a press release from Santa Clara-based Oklo Inc., the USAF issued a Notice of Intent to Award a contract for micro-reactors to supply power and heat to Eielson Air Force Base.
"This project represents a significant stride towards ensuring a clean and resilient energy supply for critical national security infrastructure," the company said

The timeline for the installation wasn't specified, and Oklo's design still awaits the green light from the Nuclear Regulatory Commission (NRC):
This selection initiates the acquisition process to potentially award a contract to Oklo. Oklo would obtain a license for its power plant from the Nuclear Regulatory Commission, construct the power plant, and operate it to deliver both electricity and steam to the Eielson Air Force Base under a long-term power purchase agreement executed by the Defense Logistics Agency Energy. --Oklo
"We are honored to be at the forefront of increasing resilience and reducing emissions, while driving national security forward," said Jacob DeWitte, Co-Founder and CEO of Oklo.
USAF previously announced Eielson AFB would be the preferred location to pilot next-generation energy technology, such as micro-reactors, to supply upwards of 15 megawatts of power.
Because of their small size, micro-reactors can be constructed cheaper and faster than traditional, giant, light-water reactors, such as the Vogtle nuclear power plant in Georgia that opened this summer, where delays and cost overruns were in the years and billions of dollars.
Oklo is one of a dozen companies developing micro-reactors. Earlier this year, NRC cleared NuScale Power's design for light-water small modular nuclear reactors for a carbon-free future.
Besides these small reactors potentially powering a military base, basically a small town, there has been a push for huge data centers to be powered by this on-demand reliable ESG (Environmental, Social, and Governance) friendly power source.
The push for nuclear power comes as a new Pew Research Center survey shows that most Americans now want atomic power.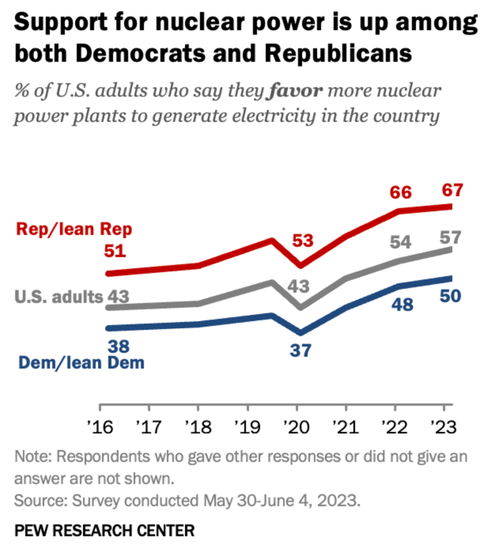 We presented a bull nuclear thesis to readers in December 2020, recommending uranium on the belief that nuclear power would eventually be incorporated into the ESG framework, as highlighted in our article "Is This The Beginning Of The Next ESG Craze," which is proving to be accurate.
By Zerohedge.com
More Top Reads From Oilprice.com: