Occidental Petroleum, (NYSE: OXY), lit up the Permian sky, with its mid-April announcement that it was going to call and raise Chevron's (NYSE:CVX) bid for Anadarko Petroleum, (NYSE: APC).
Almost immediately two things began to happen. First, the stocks of both companies sank, big. They kept sinking proportionately until the news broke at the end of April that OXY Gulfstream jet had been spotted in Omaha, where the CEO, Vicki Hollub had paid a visit to the Oracle. Ms. Hollub must have made a convincing pitch, as she came away with a big $10 bn financial commitment. Chevron stock immediately reversed course, with a 5 percent gain, attenuating this substantially though as the market fretted it would meet and raise OXY. As we now know that didn't happen, and CVX has resumed its upward march.
Not so OXY, the victor in this contest. OXY has just been pummeled by the market for its victory. You will note that Occidental stock has lost a staggering 22 percent of its value since the rumor mill first began to churn in early April. What gives? Why is the market so sour on a merger that so soundly achieves one of the premiere tenets of standardization, scale and the efficiencies that come with it?
(Click to enlarge)
In this article, we will focus on one of the primary aspects of the OXY/APC deal that haven't been properly considered by the market. OXY is going to do more with the assets held by Anadarko, and that will create value for shareholders.
And, finally, I will discuss some of the additional assets that OXY might shed to pare down the debt overhang created by the acquisition.
OXY a better aggregator of APC's assets than Chevron?
Let's start by revisiting the thesis for shale development going forward. What have the aggregating super majors told us up to this point? I am referring to BP, (BP), ExxonMobil, (XOM), and Shell, (RDS.A, RDS.B), and to an extent Chevron.
- Shale development and profitability will be driven by technology.
- Low costs of production will reign supreme.
This was previously discussed in an earlier article on shale. You might refer back to it for a little more detail on how I see shale developing over the next few years.
(Click to enlarge)
What this slide is telling us is OXY is performing at a higher level in this core Delaware Basin acreage than competitors (including Anadarko). By folding these assets into their production base, OXY will make better use of them-more oil for invested dollars than is currently being seen.
It is also telling us that the logistics hub they've built with Schlumberger, (SLB), the technological leader in the oilfield, will lower the cost of production from this acreage.
If these two things don't add up to a compelling story for OXY's bid, I don't know what does.
Africa's gone, what's next?
Anadarko's African assets have been peddled to Total, (TOT) for a tidy sum-nearly $9.0 bn, much of which OXY will use to pay down debt. What else might be on the block? In the call, they mentioned $10-15 bn, and we're not there yet.
My guess is Anadarko's deepwater stuff offshore Columbia, Guyana, and Peru will go or may already be on the block. OXY is not and never has been in the deepwater exploration and development business. Exploration like this requires billions of dollars of upfront investment before you make a dime, and is definitely not OXY's style.
(Click to enlarge)
Of particular interest will be the Guyana block. This region is smoking hot as ExxonMobil's Stabroeck development is seems to yield a new billion barrel discovery every quarter. It is worth noting that as soon as the OXY plane was gassed up, management took off for the Hague, to drop in on Shell. I imagine that during the visit with Shell, an aggressive deepwater explorer, the subject of these blocks came up.
What else? There was also some chat on the call about APC's Western Gas MLP asset. Monetizing these while maintaining through-put rights is in vogue right now, so it wouldn't surprise me to see a deal along those lines. After all, they did it just last year, so this is probably bubbling on the stove.
OXY's Q-1, 2019 Metrics
While YoY revenue was up 6.5 percent at $4,089 bn from the prior year, it was down almost 15 percent sequentially. This was primarily due to lower realizations across the board.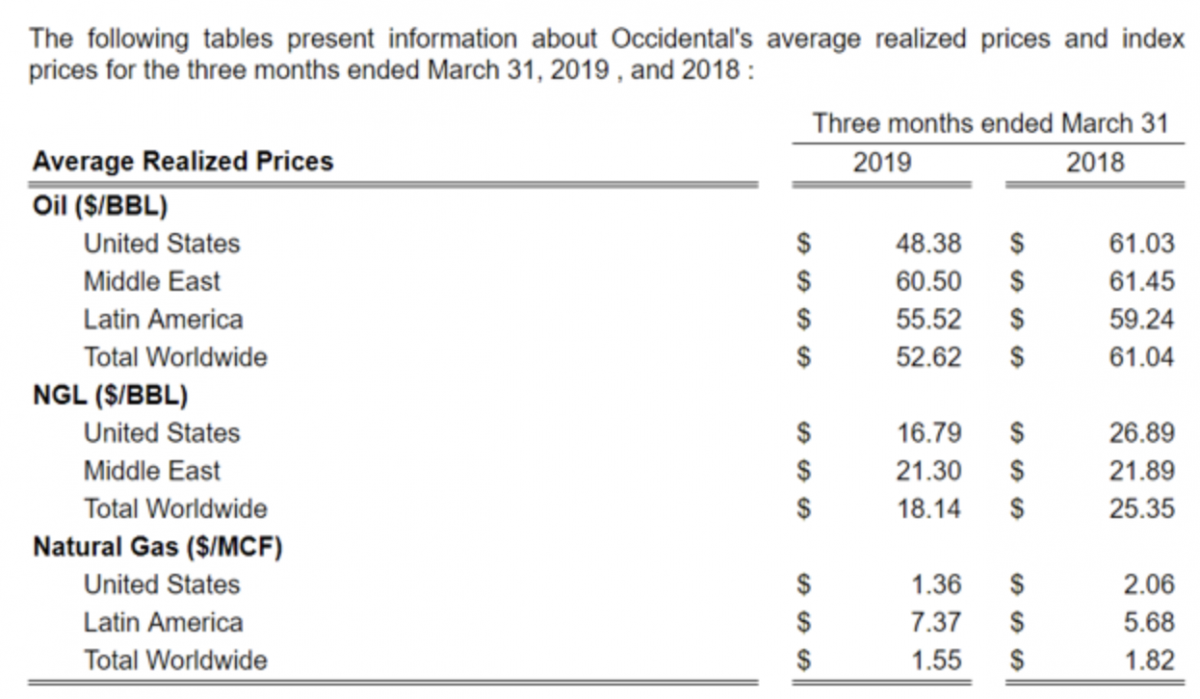 (Click to enlarge)
Free Cash flow for the TTM was $2,455 mm, but ran negative to the tune of $3,65 mm for the first quarter. Per share, $3.22, and -$048 respectively. The negative figures were due to a high level of activity and reduced prices for products. OXY is scaling back capex for the rest of the year and expects production figures will be flat YoY-ex the Anadarko transaction.
Production of 719 K BOEPD was ~15 percent higher YoY. The company expects a ramp to around 735 K BOEPD through the second quarter of 2019, while holding capex steady at ~4.5 bn.
(Click to enlarge)
Risks
Of course there are many. I would not argue for a second that OXY hasn't taken a big bite. As Hollub said in the call in answer to a question-
"Well, this to me is another one of those kind of transformational opportunities. And it's not one that we've moved suddenly in the knee-jerk reaction, as you said, we've studied this very diligently. We feel very confident, we're going to be able to achieve value add for our shareholders and there is no risk to this asset. We see no risk in this and that's what we want to be able to communicate and we haven't been able to talk about it. And that's a – that puts some pressure on our thought. That was part of the reason we moved forward now, as to be able to get our story out and to talk to all of you."
Any time you have this scenario you run this risk that your assumptions may not prove out. Key risks I see-
The company is forecasting billions of dollar in synergies for the combined entity. They look fairly straight forward, but are still a pipe dream at this point. If they don't materialize to the extent OXY thinks they will, trouble could be on the horizon.
(Click to enlarge)
Debt could become burdensome in low oil price scenarios that don't appear to be likely with current break evens ~$40 bbl for oil, but can't be discounted entirely. Right now, OXY could pay off all of their long term debt of ~$8.5 bn with one year's EBIDTA of ~$9.5 bn. Ex- the transaction closing, this will more than double.
My view, other big oil entities have made major buys resulting in big debt overhangs, i.e. BP (BP), XOM, and Shell. All of them are making good strides at reducing their leverage at current oil prices, and I don't see why OXY can't do the same. Both Hollub and OXY's CFO addressed de-levering in the call.
"We want to get back to, if not better than our current levels over time. We're targeting less than two times net leverage by 2021."
I am confident that this is a priority for OXY based on these statements. And, of course, had they not had a cogent plan for de-levering, they wouldn't have gotten Warren's $10 billion.
Your Takeaway
I've made no secret that I am a fan of the deal, contrary to what the market is saying right now. My enthusiasm revolves around the Permian's new status as the premier oil-producing province in the world. OXY at current prices is selling for 6X EBIDTA. For reference, XOM's EV/EBIDTA is ~9.5. CVX sells at ~7.5 EV/EBIDTA.
I think there is room for OXY to move about 15 percent higher over the next year, so the appreciation upside isn't huge in the short term. I like OXY for future growth as the combined companies begin to throw off increased cash flow, justifying a higher multiple, and stock price.
OXY pays a respectable dividend that is well covered by cash flow. Even with the dilution of Warren's 80 mm preferred shares, should continue to be safe with the improvements in the APC assets and cash flow.
OXY could become a target in its own right. I think there is a reasonable chance that one of the super majors, or NOC's wanting a footprint in the Permian will take them out. Thus, putting OXY holders in the same enviable position as Anadarko holders now.
Finally, I don't think this is the end of the deal era in this region. The Permian is being compared favorably to Saudi Arabia's super giant Ghawar field. A resource like this is bound to attract additional investment interest.
By David Messler for Oilprice.com