What happens when you
get one of the most successful management teams in junior E&P history
working in the most high margin oil and gas plays in the world
just as they are starting out
I'll tell you. You get the best ground-floor oil and gas stock I've seen in five years.
It's a simple, easy-to-understand story with a management team who have made early stage shareholders rich in the past.
Ron Pantin is the Executive Chairman of NGX Energy Int'l Corp–(TSX.V:GASX, OTC:PENYF)—which has assembled a land package of natural gas assets that could see them be one of the largest producers in Colombia in a very short time. Federico Restrepo joins him as President.
Colombia has some of the highest natgas prices in the world now—contracts in the US$5+/mcf range and spot prices as high as $7/mcf—and the fundamentals suggest it could get even better with time. There is no volatility in pricing. It's a producer's dream!
This team knows what they're doing. They've done this before—in Colombia. As the senior management of Pacific Rubiales—a Colombian oil and gas play—they grew the company from 14,000 bopd to 330,000 bopd in just four years.
In my 12 short years in oil and gas, I can tell you there has not been another growth story that comes anywhere close to that. Pantin's team oversaw and managed that growth.
The stock ran from $2 to $34 over a little more than 2 years.
Now, most of the Pacific Rubiales team is back together here–and ready to grow just as quickly.
Way back in 2006, Rubiales started in much the same way as NGX is doing now. They acquired a large land package and made a discovery—in that case a gas area in northern Colombia called La Creciente.
La Creciente turned out to be the second-largest field in Colombia.
The first well Rubiales drilled into La Creciente hit on 90 MMscfd. The stock price soared from 30c to $7.00 nearly overnight.
NGX has a better story. La Creciente was remote. Infrastructure was sparse – there was nothing there. I'll show how you NGX's land blocks each have gas pipelines with available capacity nearby.
The Macro Set-Up:
Colombia Needs More Natural Gas!
Everywhere in the world it seems that natural gas supply is abundant and cheap. But not in Colombia! It is now one of the most profitable locations on earth for producers.
That's due to a few factors—both declining supply and increasing demand. But here's The Big Story:
One of NGX's neighbors has been one of the largest gas fields in Colombia – Chuchupa.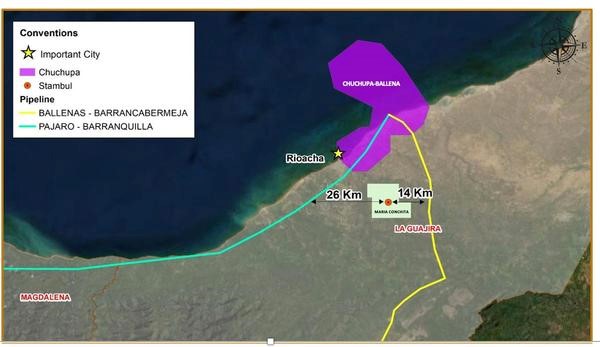 Chuchupa has been producing gas for 35 years. It accounts for 40% of Colombia's daily natural gas production—and it is declining!
Ecopetrol, which owns Chuchupa along with Hocol, said last month that the production decline would reach 17% by 2022.
Bad news for Chuchupa is good news for NGX (TSX.V:GASX, OTC:PENYF). There will be no problems with pipeline capacity. A nearby transmission line is only 14 kilometers away from NGX's block.
Not only is natgas production around NGX's land package declining, it is going down across all Colombia.
Proved gas reserves have nearly halved from their peak in 2009.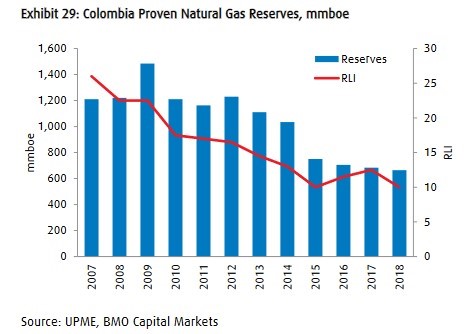 The country is in desperate need of gas. Demand is forecast to continue to trend up.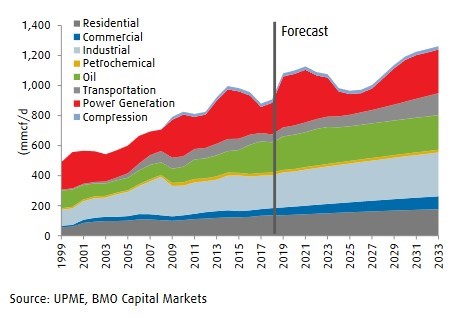 The country needs to replenish its natural gas reserves. The government knows this.
Big legacy fields like Guajira (~19% of Colombia's natural gas production) and La Creciente are also in terminal decline.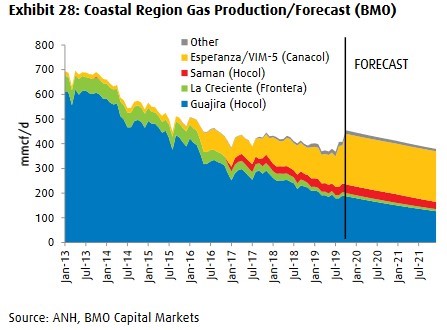 Without the development of new basins and new reserves, natural gas production will continue to fall.
The Colombian government has indicated that natural gas will need to be the transition fuel for the country.
They expect to use more natural gas, not less, as the country moves toward a sustainable, green future.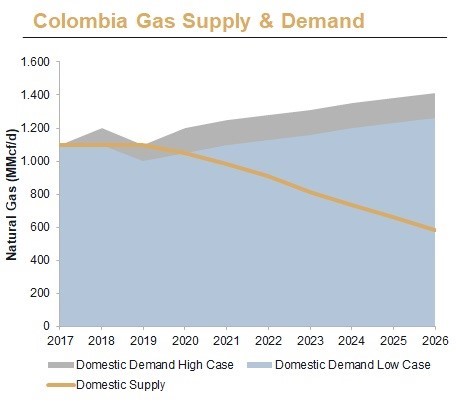 The UPME (Ministry of Mines and Energy) projects that natural gas demand will increase from ~18% of total energy demand to 25% by 2040 and 34% by 2050.
What this means for NGX – and all Colombian producers – is higher prices.
While natural gas markets in North America have been stuck below US$3/mcf for years, Colombian prices have averaged near $5/mcf.
Canacol (CNE-TSX), one of the largest natural gas producers in the country, has seen stable (and profitable!) commodity prices for over 5 years.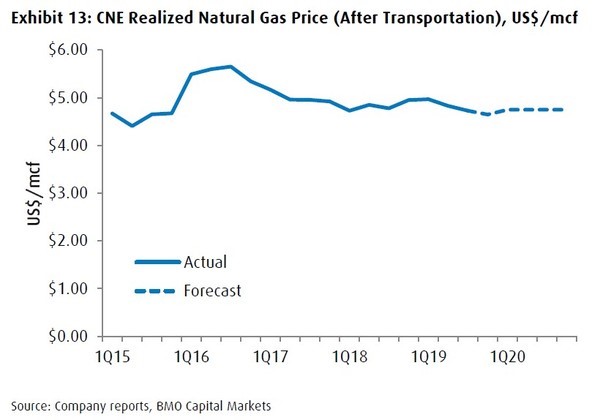 NGX COULD BE LARGEST PRIVATE SECTOR
NATGAS PRODUCER IN COLOMBIA: PANTIN
When a proven team makes a discovery, it can quickly add A LOT of shareholder value. The Market trusts that they will be able to raise the money and execute on a development drill program quickly—so the Market gives them credit in advance.
That happens all the time in a bull market. When a great team in Canada hits on a new play, the stock moves up. Same thing here.
It's rare that retail investors get a chance at a team like this just weeks before the first drilling starts—usually the cheap, early stage money just goes to friendly institutional money or family money.
I've had some of my best wins in Colombia—Pacific Rubiales was huge and Petrominerales was a triple in nine months, from $11 – $33.
Colombia's great geology means wells often pay back their costs very quickly–allowing junior producers to re-invest that money into new wells–and grow production within cash flow.
That means Free Cash Flow, no dilution and reducing debt as you grow.
Colombia can be a money-maker for investors.
NGX has 3 onshore blocks–all are prospective for natural gas and all have plenty of upside.
I only have room/time to talk about two—both are very large potential.
SN-9 – A Potential Company Maker
SN-9 neighbours Canacol's big producing property to the east. NGX (TSX.V:GASX, OTC:PENYF) has a 72% participation interest in the block.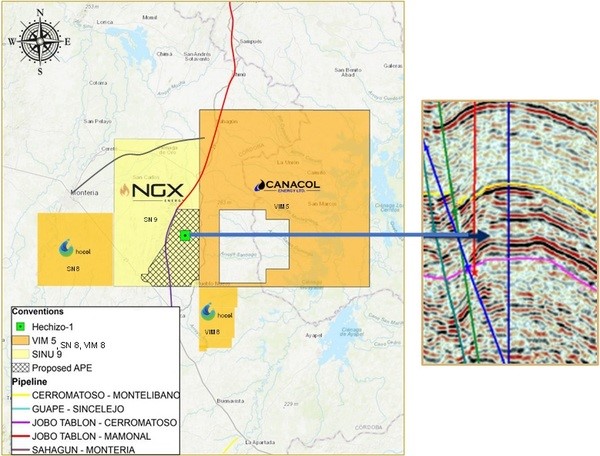 Source: NGX Investor Presentation
Canacol is producing a little over 200 MMscfd from these 3 neighbouring blocks. In Canacol's most prolific field, Clarinete, wells have been tested in excess of 40 MMscfd.
NGX is about to start drilling the SN-9 property. The seismic tells them that the gas is there. A well drilled by Ecopetrol in 1992 on the block, the Hechizo-1, tested at 10 MMscfd.
The initial focus will start off by offsetting the Hechizo-1 well. 3-D seismic, followed by two to four exploration wells.
These are not deep wells – only 6,000 feet. They cost $4.5 to $5 million to drill and complete. The NGX team describes the exploration risk as "very low".
NGX believes that SN-9 could be big enough to be not only important to the company, but an important new source of natural gas to the country.
Full development of the field would be about 36 wells. They forecast full-field production of 180 MMscfd if successful.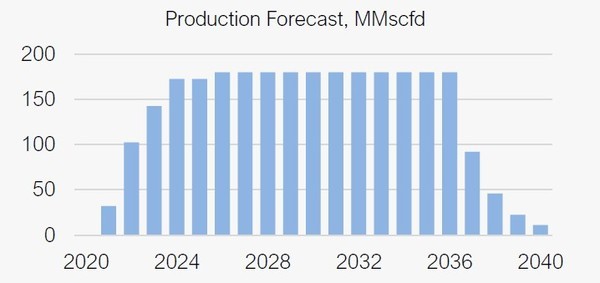 Source: NGX Investor Presentation
That would put SN-9 on the same scale as Canacol's fields, but candidly, the hope is that SN-9 is much larger. They are looking for numbers as high as 1 trillion cubic feet (Tcf).
Canacol has an existing gas line that goes to the coast 25 kilometers from SN-9. A second gas line going south – to Medellin and Cali, is planned by Empresas Públicas de Medellín, (EPM).
NGX is expecting to drill their first well within weeks! This property has the potential to be a company maker.
Tiburon – A Potential COUNTRY Maker
Tiburon is surrounded by gas giants. Chuchupa to the south. Orca is an offshore (650 m deep! That's expensive!!) is a large prospective field to the northwest. Perla, a 16 Tcf field to the east. The block is actually part of the same basin as Chuchupa.
NGX is looking for big numbers at Tiburon. Pantin tells me, "if we have two TCF, we can go up to 400 million standard cubic feet per day just from Tiburon."
Tiburon is an onshore prospect, on the northern tip of Colombia (10 – 40%).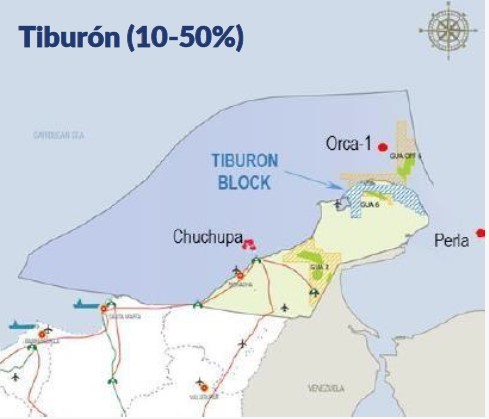 Source: NGX Investor Presentation
SN-9 will not cost a lot to ramp production up. Tiburon is so much bigger however, that Pantin says they will find a multi-national partner to help develop it.
First however they will shoot some seismic and identify targets to maximize their valuation.
If exploration is a success, we are talking big numbers. Pantin says that internal estimates show production peaking at close to 400 MMscfd and sustaining that level for 10 years.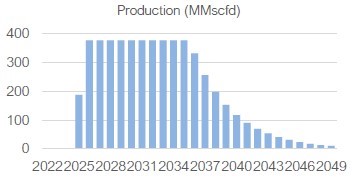 Source: NGX Investor Presentation

WHEN WAS THE LAST TIME I BROUGHT YOU
A NATGAS STOCK?
It takes A LOT of factors to line up for me to bring you an oil and gas stock.
It has to be the right team—because management is everything. They need to have built a winner before and made investors money
It has to be the right play—highly profitable, good jurisdiction
Cash flow has to be immediate—no remote wells that need pipelines and permits and years of waiting
I think I've got all that in NGX (TSX.V:GASX, OTC:PENYF). Institutional money knows and likes this team.
Their first drill program S-9, is right beside Canacol's best asset. High quality seismic has been shot. Investors could not ask for a better location.
The Big Upside in the Tiburon block will attract investors. It's needed. There are very few (if any other) places that need more hydrocarbon production.
NGX Energy International management has reviewed and sponsored this article. The information in this newsletter does not constitute an offer to sell or a solicitation of an offer to buy any securities of a corporation or entity, including U.S. Traded Securities or U.S. Quoted Securities, in the United States or to U.S. Persons. Securities may not be offered or sold in the United States except in compliance with the registration requirements of the Securities Act and applicable U.S. state securities laws or pursuant to an exemption therefrom. Any public offering of securities in the United States may only be made by means of a prospectus containing detailed information about the corporation or entity and its management as well as financial statements. No securities regulatory authority in the United States has either approved or disapproved of the contents of any newsletter.
Keith Schaefer is not registered with the United States Securities and Exchange Commission (the "SEC"): as a "broker-dealer" under the Exchange Act, as an "investment adviser" under the Investment Advisers Act of 1940, or in any other capacity. He is also not registered with any state securities commission or authority as a broker-dealer or investment advisor or in any other capacity.
By. Keith Schaefer
**IMPORTANT! BY READING OUR CONTENT YOU EXPLICITLY AGREE TO THE FOLLOWING. PLEASE READ CAREFULLY**
Forward-Looking Statements. Statements contained in this document that are not historical facts are forward-looking statements that involve various risks and uncertainty affecting the business of NGX. All estimates and statements with respect to NGX's operations, its plans and projections, size of potential gas reserves, comparisons to other gas producing fields, oil prices, recoverable gas, production targets, production and other operating costs and likelihood of gas recoverability are forward-looking statements under applicable securities laws and necessarily involve risks and uncertainties including, without limitation: risks associated with oil and gas exploration, timing of reports, development, exploitation and production, geological risks, marketing and transportation, availability of adequate funding, volatility of commodity prices, imprecision of reserve and resource estimates, environmental risks, competition from other producers, government regulation, dates of commencement of production and changes in the regulatory and taxation environment. Actual results may vary materially from the information provided in this document, and there is no representation that the actual results realized in the future will be the same in whole or in part as those presented herein. Other factors that could cause actual results to differ from those contained in the forward-looking statements are also set forth in filings that NGX and its technical analysts have made, We undertake no obligation, except as otherwise required by law, to update these forward-looking statements except as required by law.
Exploration for hydrocarbons is a speculative venture necessarily involving substantial risk. NGX's future success will depend on its ability to develop its current properties and on its ability to discover resources that are capable of commercial production. However, there is no assurance that NGX's future exploration and development efforts will result in the discovery or development of commercial accumulations of natural gas. In addition, even if hydrocarbons are discovered, the costs of extracting and delivering the hydrocarbons to market and variations in the market price may render uneconomic any discovered deposit. Geological conditions are variable and unpredictable. Even if production is commenced from a well, the quantity of hydrocarbons produced inevitably will decline over time, and production may be adversely affected or may have to be terminated altogether if NGX encounters unforeseen geological conditions. Adverse climatic conditions at such properties may also hinder NGX's ability to carry on exploration or production activities continuously throughout any given year.
DISCLAIMERS
PAID ADVERTISEMENT. This communication is a paid advertisement and is not a recommendation to buy or sell securities. Oilprice.com, Advanced Media Solutions Ltd, and their owners, managers, employees, and assigns (collectively "the Company") has been paid by the profiled company to disseminate this communication. In this case the Company has been paid by NGX forty-five thousand US dollars for this article and certain banner ads. This compensation is a major conflict with our ability to be unbiased, more specifically:
This communication is for entertainment purposes only. Never invest purely based on our communication. We have been compensated by NGX to conduct investor awareness advertising and marketing for TSXV:GASX. Therefore, this communication should be viewed as a commercial advertisement only. We have not investigated the background of the company. Frequently companies profiled in our alerts experience a large increase in volume and share price during the course of investor awareness marketing, which often end as soon as the investor awareness marketing ceases.
The information in our communications and on our website has not been independently verified and is not guaranteed to be correct.
SHARE OWNERSHIP. The owner of Oilprice.com owns shares of this featured company and therefore has an additional incentive to see the featured company's stock perform well. The owner of Oilprice.com will not notify the market when it decides to buy more or sell shares of this issuer in the market. The owner of Oilprice.com will be buying and selling shares of this issuer for its own profit. This is why we stress that you conduct extensive due diligence as well as seek the advice of your financial advisor or a registered broker-dealer before investing in any securities.
NOT AN INVESTMENT ADVISOR. The Company is not registered or licensed by any governing body in any jurisdiction to give investing advice or provide investment recommendation. ALWAYS DO YOUR OWN RESEARCH and consult with a licensed investment professional before making an investment. This communication should not be used as a basis for making any investment.
PAST PERFORMANCE IS NOT INDICATIVE OF FUTURE RESULTS. Investing is inherently risky. Don't trade with money you can't afford to lose. This is neither a solicitation nor an offer to Buy/Sell securities. No representation is being made that any account will or is likely to achieve profits similar to those discussed.